Tonight we are learning some new details about the crossover event that will introduce the world to the first live-action Batwoman played by Ruby Rose! Since the announcement that Elseworlds would include Superman, Lois Lane, The Monitor, Psycho Pirate and Doctor John Deegan, fans have been wondering how all these characters would be involved together. Entertainment Weekly sat with Executive Producers and title characters of all three shows to discuss just how that was going to take place.
The major event that will bring the Trinity of CW's heroes together will come from Doctor John Deegan, who through untold means, will rewrite reality. One of the consequences of that will be Oliver and Barry swapping places. In this new reality, Oliver Queen looks like Gustin and Barry Allen looks like Amell, and the two heroes are the only ones who know they're in the wrong lives and have each other's powers. Grant Gustin had this to say:
You're not going to see me playing Oliver Queen's mannerisms, or Stephen playing Barry's mannerisms. It's more being aware that for some reason we've switched lives and destinies. It's more the fun of the situational comedy that we keep finding ourselves in, and less us having a complete role reversal. We get to see Stephen do some of the more goofy speed stuff I have to do on a regular basis, and I get some actual combat as Green Arrow. So, we just see different colors for each of us.
Steven Amell excitedly added:
Having superpowers is crazy! Wearing the Flash suit is crazy! The idea is that in order to be the best version of Barry Allen, which I have to be because we face a threat, there are elements of his personality I have to embrace, and there are elements of my personality that he has to embrace.
Melissa Benoist (Supergirl, who hails from a different universe than Oliver and Barry) had this to add:
My initial reaction in reading the scripts this year was that it would be a hoot to film. The comedy just lives in this. Even just seeing them in each other's suits is funny; they're literally putting themselves in each other's shoes! [Supergirl is pulled into the situation because she is the only one who can tell the two are swapped] She inevitably becomes kind of a middleman because ultimately there's conflict between the two and they start butting heads.
Fans can look forward to a scene with the three title characters trapped in an Arkham Asylum prison cell, a Batwoman and Vibe team up, and three chapters of this story where each retains the feeling of their own initial show. To see what Executive Producer Marc Guggenheim had to say about the crossover and their choice to not include the Legends, head over to Entertainment Weekly to read the rest of the article.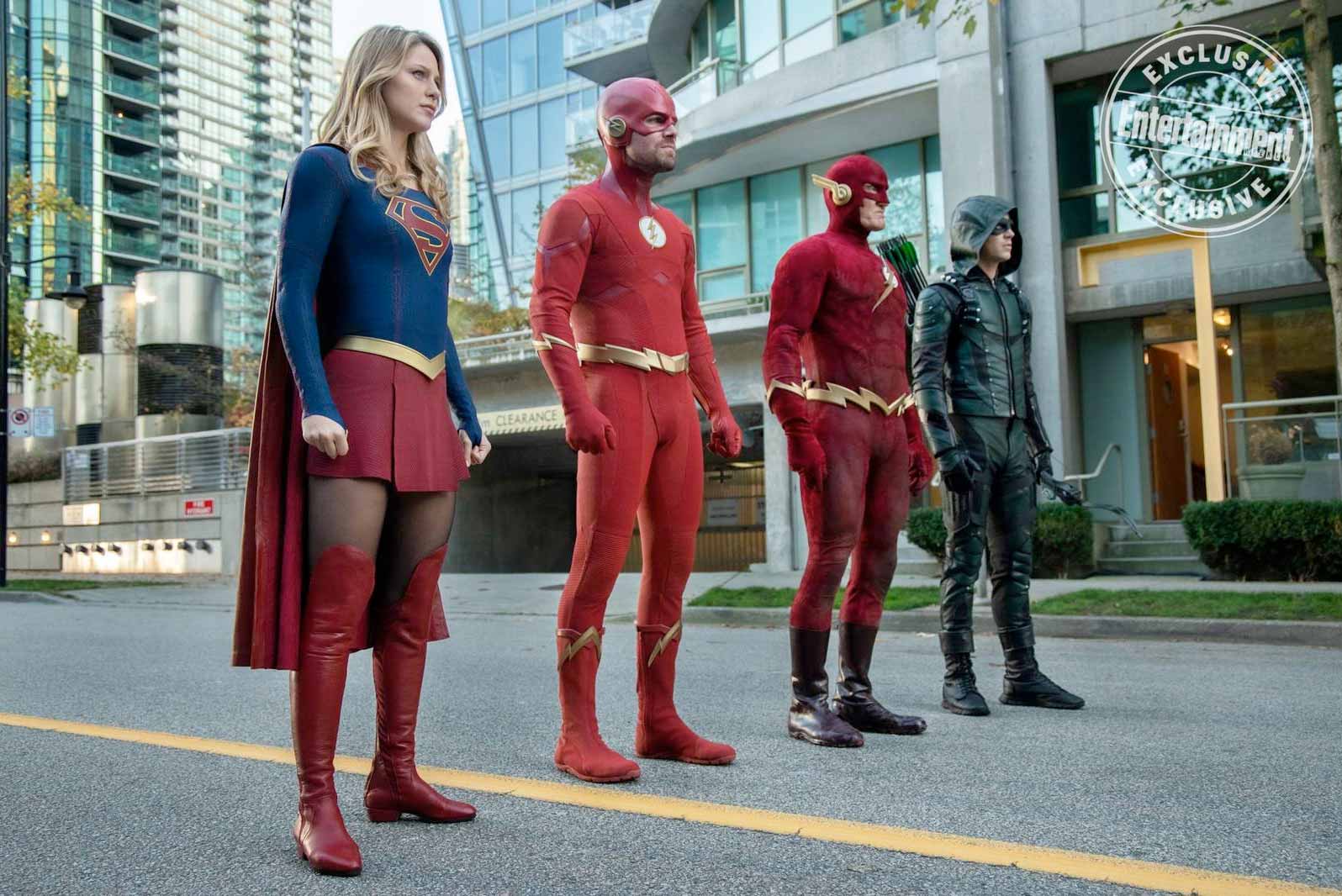 Let us know what you think of these new details in the comments below and in the forum!