11/16/2018 10:44 am

It has become a bit of a tradition to have a talented comic book artist do a comic book style cover for the crossover events. This year is no different and the iconic Amy Reeder has been tapped to do this year's rendition of the cover. Elseworlds welcomes Superman, Supergirl, The Flash, Green Arrow, and Batwoman all interwoven to stop Dr. John Deegan who's somehow gained the ability to rewrite reality to his will. Check out the poster that Amy did commemorating this event below: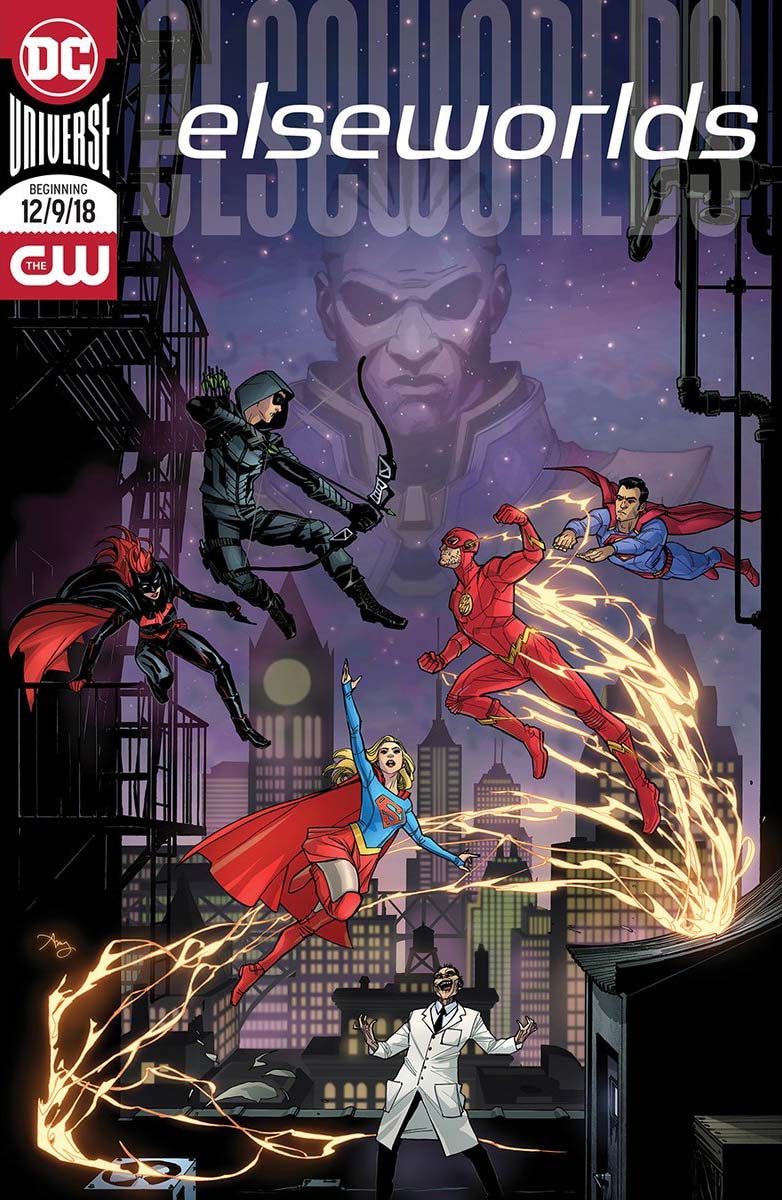 Let us know your thoughts on this poster in the comments below and in our forum!
11/15/2018 6:42 pm

Tonight we are learning some new details about the crossover event that will introduce the world to the first live-action Batwoman played by Ruby Rose! Since the announcement that Elseworlds would include Superman, Lois Lane, The Monitor, Psycho Pirate and Doctor John Deegan, fans have been wondering how all these characters would be involved together. Entertainment Weekly sat with Executive Producers and title characters of all three shows to discuss just how that was going to take place.
The major event that will bring the Trinity of CW's heroes together will come from Doctor John Deegan, who through untold means, will rewrite reality. One of the consequences of that will be Oliver and Barry swapping places. In this new reality, Oliver Queen looks like Gustin and Barry Allen looks like Amell, and the two heroes are the only ones who know they're in the wrong lives and have each other's powers. Grant Gustin had this to say:
You're not going to see me playing Oliver Queen's mannerisms, or Stephen playing Barry's mannerisms. It's more being aware that for some reason we've switched lives and destinies. It's more the fun of the situational comedy that we keep finding ourselves in, and less us having a complete role reversal. We get to see Stephen do some of the more goofy speed stuff I have to do on a regular basis, and I get some actual combat as Green Arrow. So, we just see different colors for each of us.
Steven Amell excitedly added:
Having superpowers is crazy! Wearing the Flash suit is crazy! The idea is that in order to be the best version of Barry Allen, which I have to be because we face a threat, there are elements of his personality I have to embrace, and there are elements of my personality that he has to embrace.
Melissa Benoist (Supergirl, who hails from a different universe than Oliver and Barry) had this to add:
My initial reaction in reading the scripts this year was that it would be a hoot to film. The comedy just lives in this. Even just seeing them in each other's suits is funny; they're literally putting themselves in each other's shoes! [Supergirl is pulled into the situation because she is the only one who can tell the two are swapped] She inevitably becomes kind of a middleman because ultimately there's conflict between the two and they start butting heads.
Fans can look forward to a scene with the three title characters trapped in an Arkham Asylum prison cell, a Batwoman and Vibe team up, and three chapters of this story where each retains the feeling of their own initial show. To see what Executive Producer Marc Guggenheim had to say about the crossover and their choice to not include the Legends, head over to Entertainment Weekly to read the rest of the article.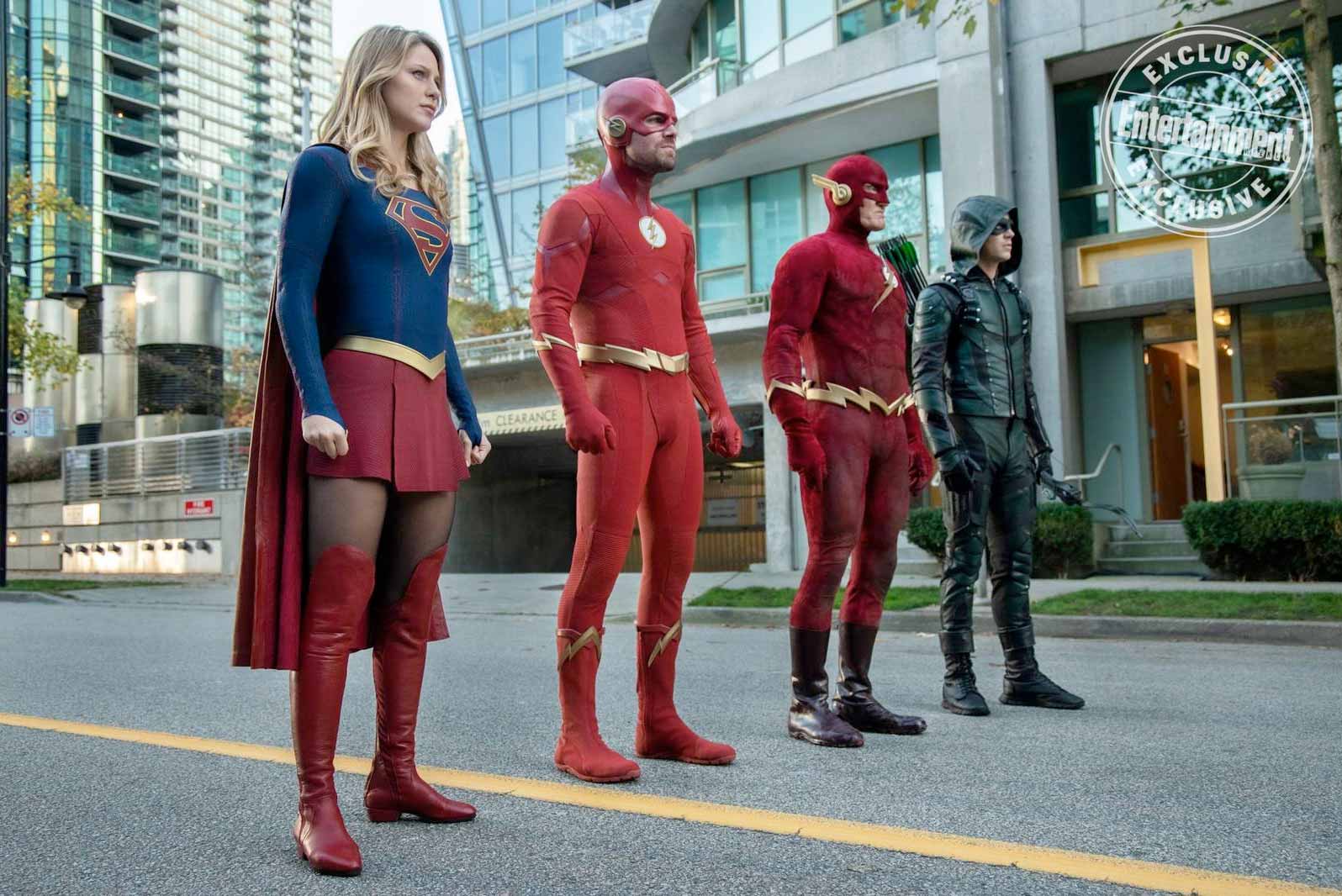 Let us know what you think of these new details in the comments below and in the forum!
11/15/2018 10:06 am

The 2018-2019 Arrowverse season is in full flow and with it, we continue to march toward the epic three-night crossover event, "Elseworlds". Of course, Batwoman fans are anxiously waiting to see this event as the Arrowverse will get thier first Bat character in Ruby Rose's Batwoman. Additionally, this will mark the first time a live action portrayal of the wigged-crusader will appear on screen. The internet exploded when Rose's costume was first revealed, now the header image of this very site. Today, Entertainment Weekly got to talk with Ruby Rose about what it's like to be Batwoman and share a first action still of Rose's Kate Kane.
Rose had this to say about wearing the Batwoman costume:
It's a strange feeling to put on a suit like this that has been custom made for you knowing that it's going to transform you into a character that does amazing things. You feel very empowered and it just instantly changes everything you feel in that moment.
Ruby spoke about what playing the openly gay character means to her:
The fact that she is an outwardly gay superhero, which is something growing up I would've loved to have seen on my TV, was a big deciding factor as to why I was so passionate about the role. This [role] just meant a lot more to me because I could relate in so many ways and, at the same time, felt like this was a job that would give me a purpose every day coming into work beyond just getting to live my dream, which is acting, and would be far more rewarding than anything I've done in the past.
Other interesting facts from the article noted that Batwoman would save Cisco and Green Arrow at Arkham Asylum and will use both her grappler and batarang to bring down two inmates who attempt to escape. Fans will also delight to know that the Arrowverse characters will get to interact with both Batwoman and her alter-ego Kate Kane! For more on this story head over to Entertainment Weekly to read the full article and check out the first action still below: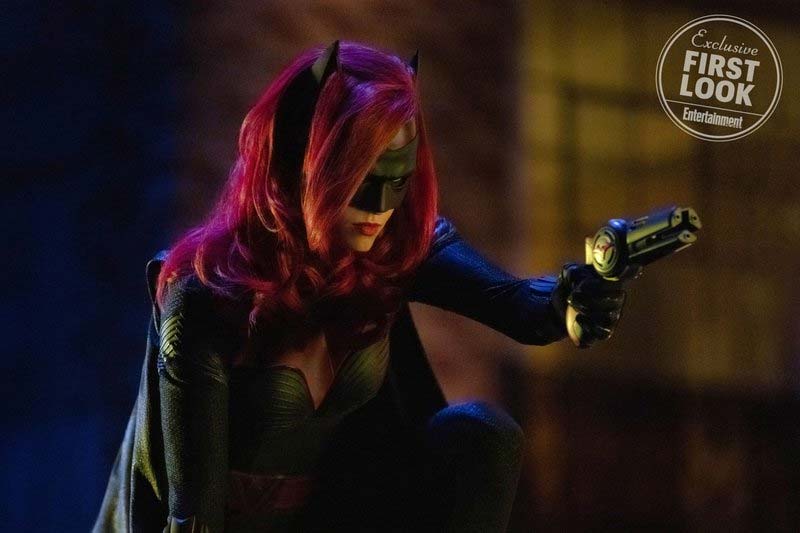 Share your thoughts on this awesome news in the comments below or in our forum!
11/13/2018 11:30 am

Freaky Friday is a movie that has been made, remade, retitled, reimagined, and retold just about as many times as a story can be. On the very limited chance that you aren't familiar with the Freaky Friday story, it is essentially when two characters swap places but the supporting characters aren't aware. Well, there is one place where the Freaky Friday story hasn't been told and judging by this first teaser for the Elseworlds crossover, The Arrowverse's Barry Allen (The Flash) and Oliver Queen (Green Arrow) are going to get their own Freaky Friday. Check out the trailer below:
Oliver Queen isn't the only one who's having a rough Friday, check out this second teaser for Elseworlds which is from Barry's point of view, or should we say, Green Arrow:
Let us know what you think of the teaser in the comments below and in the forum!
11/11/2018 2:35 pm

We are down to twenty-eight days until we get to see Batwoman's debut in the Arrowverse! This iconic character has never appeared in live action before and as you know, the incredible Ruby Rose has been tasked to play Kate Kane. To celebrate the momentous occasion, we are excited to annouce that we will be giving away an amazing Kotobukiya Batwoman figure to one lucky winner! This will be our first contest of many as Batwoman starts to take shape. If you've joined us from Supergirl.tv, you know we've done these kinds of contests before. For our first contest here, we are going to open this prize up to our Twitter followers! To enter, all you have to do is follow us on the social media platform and retweet the contest tweet (just retweet this on your twitter account and follow us). That's it! We will select a winner for this figure by randomly assigning each retweet a number, then use random.org to generate a winner. The winner will be announced Monday, November 19th. Good luck to all and check out some iconic images that we took of the figure up for grabs!
Let us know what you think of the figure in the comments below and in the forum!