10/16/2018 9:27 am

Elseworlds are comicbook stories that allow for alternate timelines and/or different universes where writers can explore big "What If" questions. Flashpoint might be one of the most well known Elseworld stories, but other huge ones are Red Son (currently being explored on Supergirl this season), Kingdom Come, (a world where Joker killed Lois Lane and Superman and turned his back on humanity long enough for a new breed of heroes that kill took over) and Batman: Gotham by Gaslight (An exploration of Batman and Gotham in a Victorian period).
Of course, when you remove yourself from the modern day timeline, the possibilities for our beloved characters become endless. That would seem to be the case for this year's big crossover event as well! In a series of huge instagram posts from Grant Gustin (Barry Allen on The Flash) and Stephen Amell (Oliver Queen on Arrow), the jumbling of roles looks to be taking place for Elseworlds on the CW! Check out the images below:
Let us know what you think of these images in the comments below and in our forum!
10/15/2018 11:37 am

Today, Stephen Amell has set the internet on fire! For those that don't know, Stephen plays Oliver Queen on Arrow. In addition, the Elseworld crossover event between Supergirl, The Flash, and Arrow is currently filming. This includes our first look at a live action Batwoman! It would seem today, we are getting our first look at a different Superman as well! The DCEU has been dying over the fact that we never got to see the famous Black Superman Suit, but the Arrowverse is not afraid! Stephen tweeted out this amazing photo of Grant Gustin, Tyler Hoechlin and himself on set! Check out the new Superman suit below: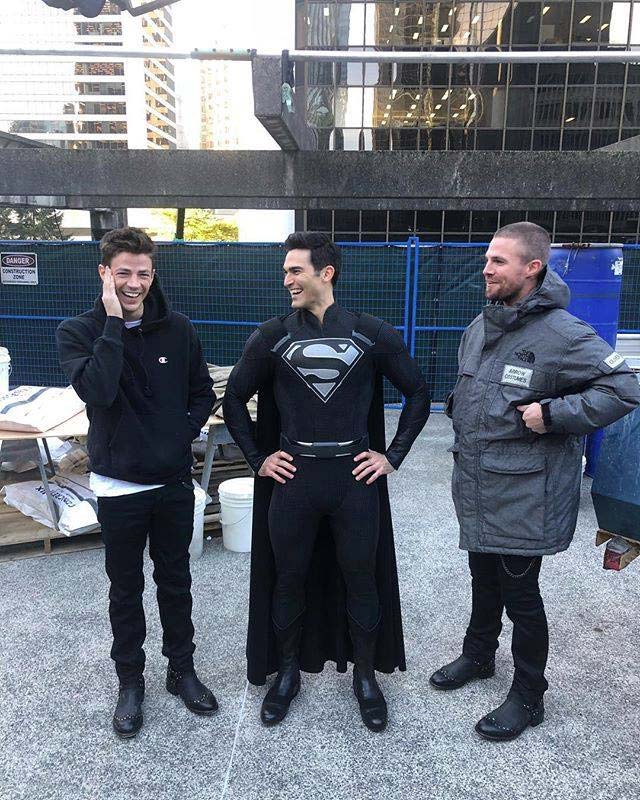 Let us know what you think of this Superman we've never seen before in the comments below and in the forum!
10/8/2018 7:32 pm

There is something that is so iconic about a "Bat" costume. The ears have to be just right, the utility belt needs to be functional but not too big, the emblem needs to visible and incorporated into the look and feel of the uniform and finally the cape needs to be long enough to have a regal length but also keep the bat curves. If you can hit those hot spots and keep a two-tone color scheme, you just might have an iconic look that will last for a long time. Today, Colleen Atwood, Academy Award Winning costume designer, has knocked it out of the park yet again! Ruby Rose puts on the cape and cowel for the first time and she looks amazing! It should be noted that Atwood has done all the title characters for the Arrowverse including Supergirl and The Flash! Check out the image below and click on it to get full size!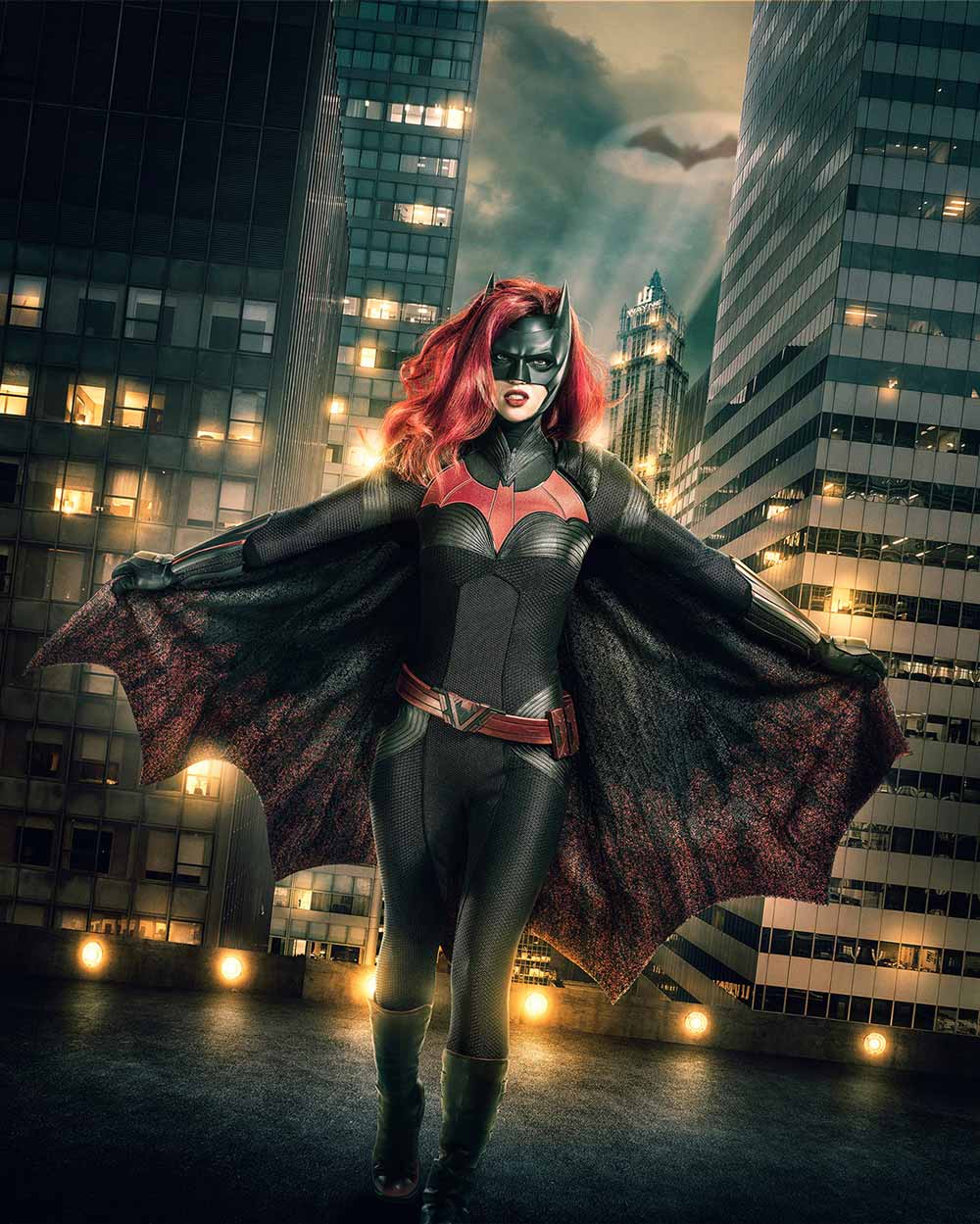 Let us know what you think of Ruby's Batwoman in the comments below and in our forum!
10/8/2018 7:37 am

Many know that once the casting decision was made that launched out lesbian actor Ruby Rose into the world of comics and the DC TV Arrowverse, there was a lot of harsh criticism that lead to the actor removing herself from Twitter for an indefinite period of time. Recently, however, The Hollywood Reporter caught up with the father of the Arrowverse, Greg Berlanti and his husband, Robbie Rogers at the L.A. LGBT Center Vanguard Awards where the two echoed and praised the choice to set Rose in the title role. Rogers commented:
Greg would say, 'What good are those heroes if they don't look like the world they're saving?'
Berlanti added:
Whenever you're bringing change about in any form, there are always conversations that happen. I go all the way back to Dawson's Creek. Twitter didn't exist, but we would get boxes of letters expressing opinions in all directions from were we making enough change, should we be making more change, or why did we feel like we needed to do these things? It's always part of the process, so just focus on the story and make the best episode that you can. [Ruby] is terrific in the role, and we're excited for people to see the story.
At this stage, the debut of Batwoman is beginning to be filmed in order to be aired this December in the three-night crossover event titled, Elseworlds. The pilot for Batwoman's TV show was ordered and will begin shortly after, but the show has yet to be picked up for a full run on The CW.
Let us know your thoughts in the comments below and in the forum!
9/30/2018 5:02 pm

It's just about time for the crossover to begin filming and with that we are likely to get our first look at several of the new characters announced for the three-night special event, (beginning on The Flash, on a special night, Sunday, December 9th). Of course, most eyes are wanting to see what Ruby Rose's Batwoman costume will look like but in addition, we have the Arrowverse's first Monitor, first Lois Lane, and because of the "Elseworlds" title, we could even see different versions of the Arrowverse's current heroes (Supergirl, Flash and Arrow). That was even hinted at via Stephen Amell's Instagram.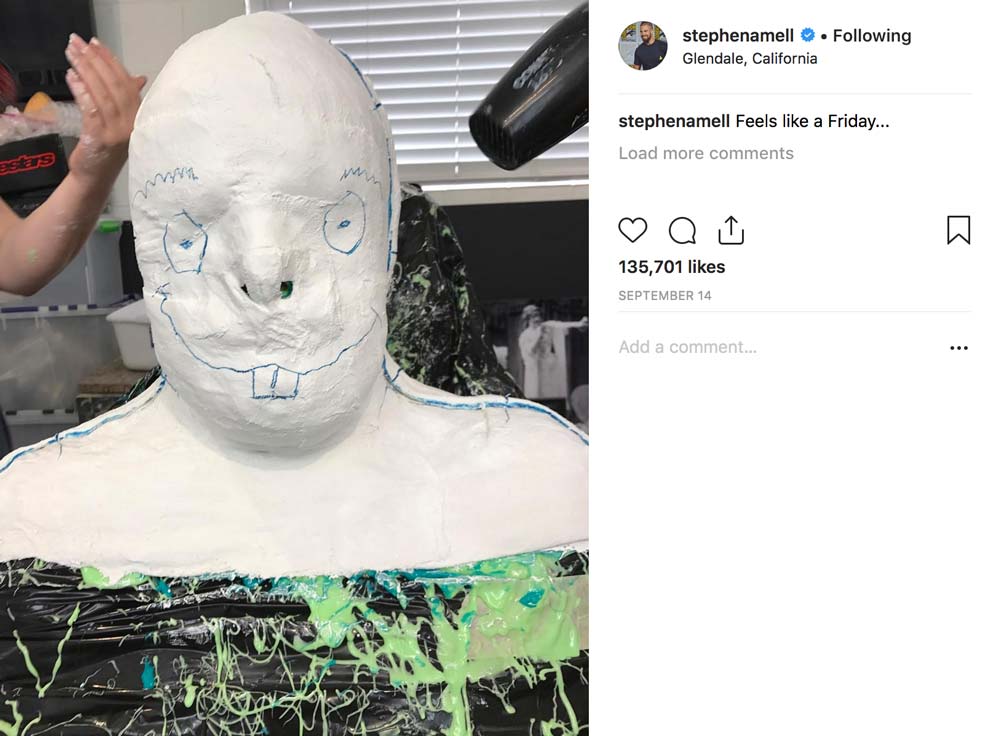 As we approach the new 2018 - 2019 season of the Arrowverse, here's what we know so far about Batwoman, and the Elseworld's crossover event:
Batwoman will be a featured character in the crossover and Gotham will be explored.
Elizabeth Tulloch has been cast as Lois Lane. (She will appear in episodes 1 and 3).
Cassandra Jean Amell (Stephen Amell's wife) will play Nora Fries (Mr. Freeze's wife).
Jeremy Davies from Lost has joined as Dr. John Deegan, a troubled doctor who works at Arkham Asylam in Gotham.
Superman will join the crossover and be in all episodes. The Arrowverse's Superman is played by Tyler Hoechlin.
LaMonica Garrett has been cast to play The Arrowverse's first Monitor, Mar Novu.
Legends of Tomorrow will be absent from this year's crossover event.
Batwoman is suspected to get her own show and a pilot has been ordered by The CW for 2019.
Here are some big questions we are still curious about:
On which Earth will the crossover take place? Does this include where Batwoman's show will take place?
How do The Flash and Arrow join up with Superman, Lois Lane, and Supergirl?
Will Batwoman be joined by any characters that could end up on her show?
Finally, we know a bit more about the crossover but for now, that information needs to be classified as a spoiler! For more on that check out our spoilers page!
Let us know what questions you still have about the crossover and what you are looking forward to the most in the comments below and in our forum!