9/12/2019 5:33 pm

Batwoman is less than a month away. We've seen a lot of great specialty made Batwoman trailers that don't really show clips from the show but today, we are getting some more footage. Having seen the pilot, there was a shot of daytime Gotham City that I haven't even seen which was pretty cool! This trailer focuses on Kate and Sophie's relationship. From the trailer it looks like it is Sophie's kidnapping that brings Kate back from wherever she is. There was also a ton of great action in the trailer too! But enough from me check it out below:
Let us know what you think of the trailer in the comments below and in the forum!
9/4/2019 10:57 am

Eonline.com has an exclusive new teaser for the Batwoman premiere! This psychedelic motion/flat color style hasn't been seen before in any of the other teasers. This teaser, however, does a good job of setting up the situation for Batwoman, why she is in Gotham and the major players in the show's first season. Alice is certainly there to disrupt the Crows' mission and what Kate Kane's father is trying to do with his personal private security firm. Check out the teaser below:
Let us know what you think in the comments below and in the forum!
8/30/2019 8:47 pm

Here we go again! Another unique Batwoman teaser and this one tells the story of Batwoman, Batman and the mysteries that abound! If you haven't read the series synopsis, we believe this teaser is meant to educate you to the situation that Batwoman takes place in. If your are an Arrowverse fan and watch Supergirl, you might know that the heroes who share an emblem with the title heroes of the DC Comics staples need to stand on their own! In season one of Supergirl we never really saw Superman! He was on Earth but he wasn't ever seen. This allowed Supergirl to stand on her own. For Batwoman, the show has created a huge mystery! Batman has been missing in Gotham for three year! What drove the Dark Knight away and what does his absence mean for Gotham? Well ... this trailer might answer the latter question for you! Check it out:
Let us know what you think in the comments below and in the forum!
8/28/2019 3:03 pm

On the heels of that amazing new key art for Batwoman's first season, today we are filling in the gaps on a few more episode titles. Now when a show gets a series order, the first episode is usually titled "Pilot" allowing the show's name to take center stage. This is no different for Batwoman. That said, the next three episode titles all seem to have an interesting theme tied together. The titles are The Rabbit Hole, Down Down Down and Who Are You repsectively. Episode two will likely be heavy with Alice moving her into prime villian territory, we know a bit more about episode three and four though ... in our spoilers page. We'll leave it at that in case you don't want to be spoiled.
Let us know what you think of the episode titles in the comments below and in our forum!
8/27/2019 10:26 am

This is our 100th article on Ruby Rose's Batwoman! And my goodness this is a good one! The CW has released an amazing key art poster of Ruby donning her iconic red-wig-Batwoman costume. The pose is outstanding, looking like she just landed on a construction scene in Gotham City. The beam beneath her has the Bat logo etched onto it and her cape flows from the previous jump. It also looks like her wig has been altered a bit and sits nicely onto the cowl. Of course, a picture is worth a thousand words, so check it out below: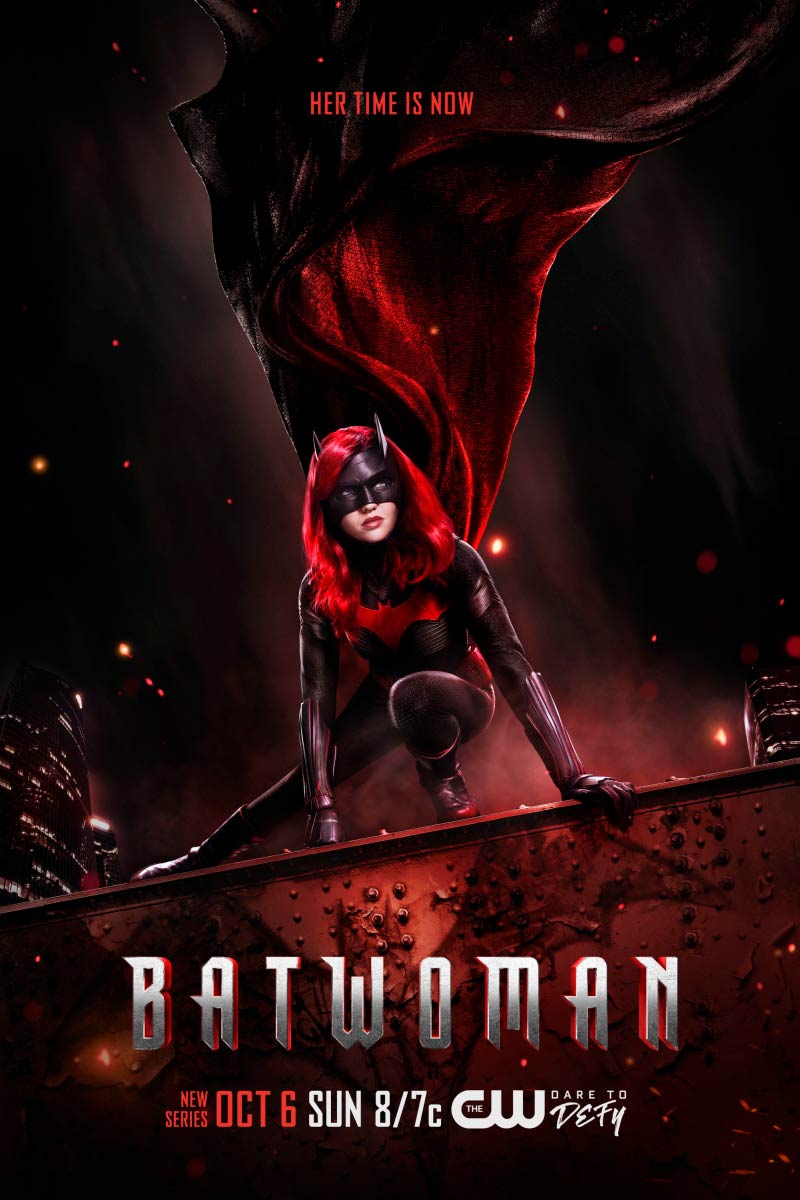 Let us know what you think in the comments below and in the forum!