8/12/2018 2:29 pm

Unfortunately, amid casting backlash on social media (specifically Twitter), Ruby Rose has decided to suspend her twitter account. After the casting announcement was made, fans started to share their opinions about the casting decision. It would seem a trend developed with fans stating that Ruby wasn't "lesbian enough" for the role. This sparked the final twitter statement from Rose before she suspended her account. You can review her statement below: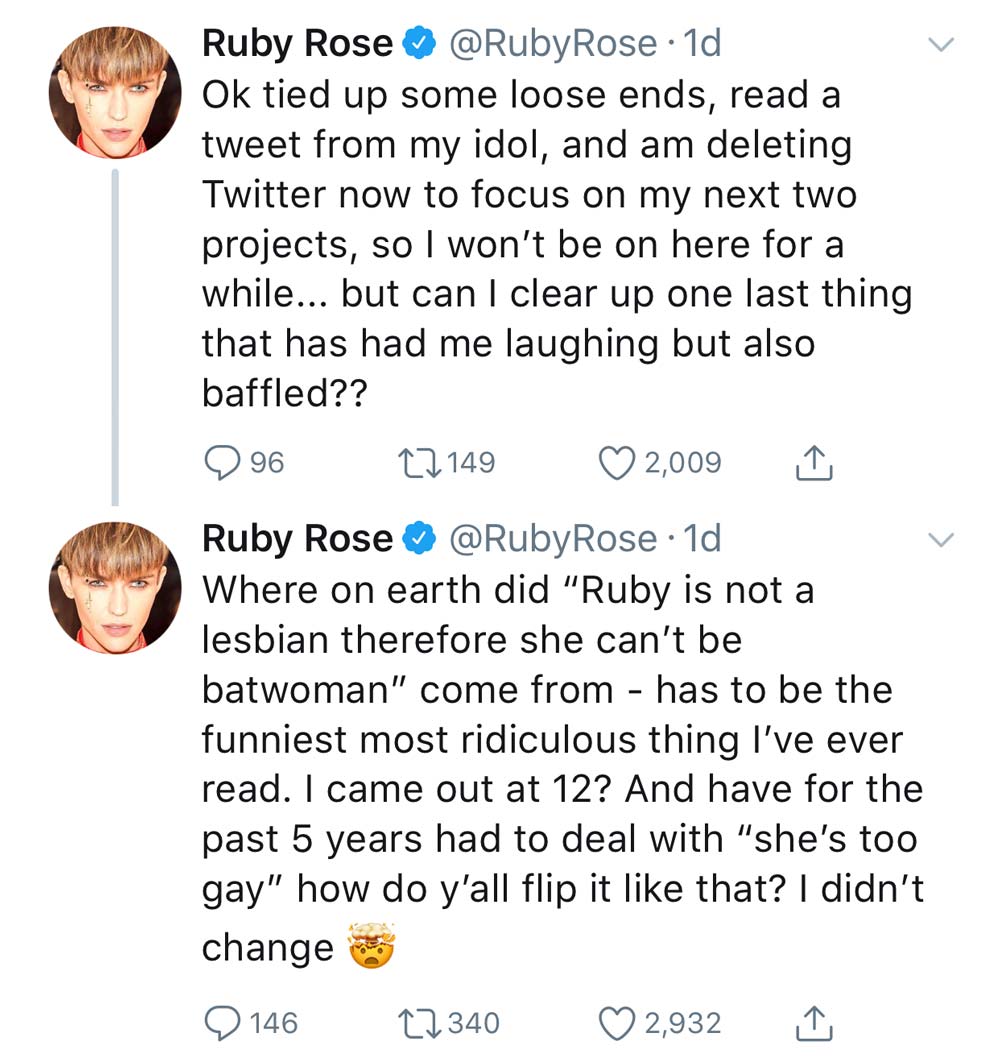 It is a disappointing outcome considering Ruby hasn't even started the role or worn the suit. Historically, fans were "outraged" at Heath Ledger's Joker casting or Margot Robbie as Harley Quinn but when the actor had the chance to bring the character to life, their performance was heralded as a definitive performance. We want to wish Ruby Rose all the support we can and are excited to see how she will bring Kate Kane to life. It is our hope that fans will also follow this direction and reserve their judgement until Ruby has a chance to make Batwoman her own.
Let us know what you think of this news in the comments below and in the forum. We have also added this issue to our polls on the right (or below on mobile) so you can cast your vote.
8/8/2018 10:58 pm
When you are cast in an iconic role, no matter your experience, your life changes! It is inevitable! Tonight, our female Caped-Crusader had the opportunity to sit down with Jimmy Fallon of NBC's The Tonight Show, to talk about her new movie, The Meg! While we don't want to put any statement against The Meg, it was clear in this interview, that Jimmy Fallon was utterly interested in Ruby becoming Batwoman! Of course, Ruby didn't disappoint, fans were let in on the story of when she first heard she was cast. Check it out below:
Let us know what you think in the comments below and in the forum!
8/8/2018 11:04 am

Yesterday was a big day for the world of television comic series. Speculations, rumors and wild hunches were all hushed quite immediately when the announcement of Ruby Rose claiming the role of Kate Kane/Batwoman was announced. The casting directors and showrunners held true to their desire to bring an out lesbian actor to the role to play an out lesbian superhero. That trend was also recently reflected in the Arrowverse with Supergirl casting Nicole Maines as the first transgender superhero for their show. Ruby herself took to social media to express her excitement and her emotional state upon "letting the bat out of the bag". You can see her post below: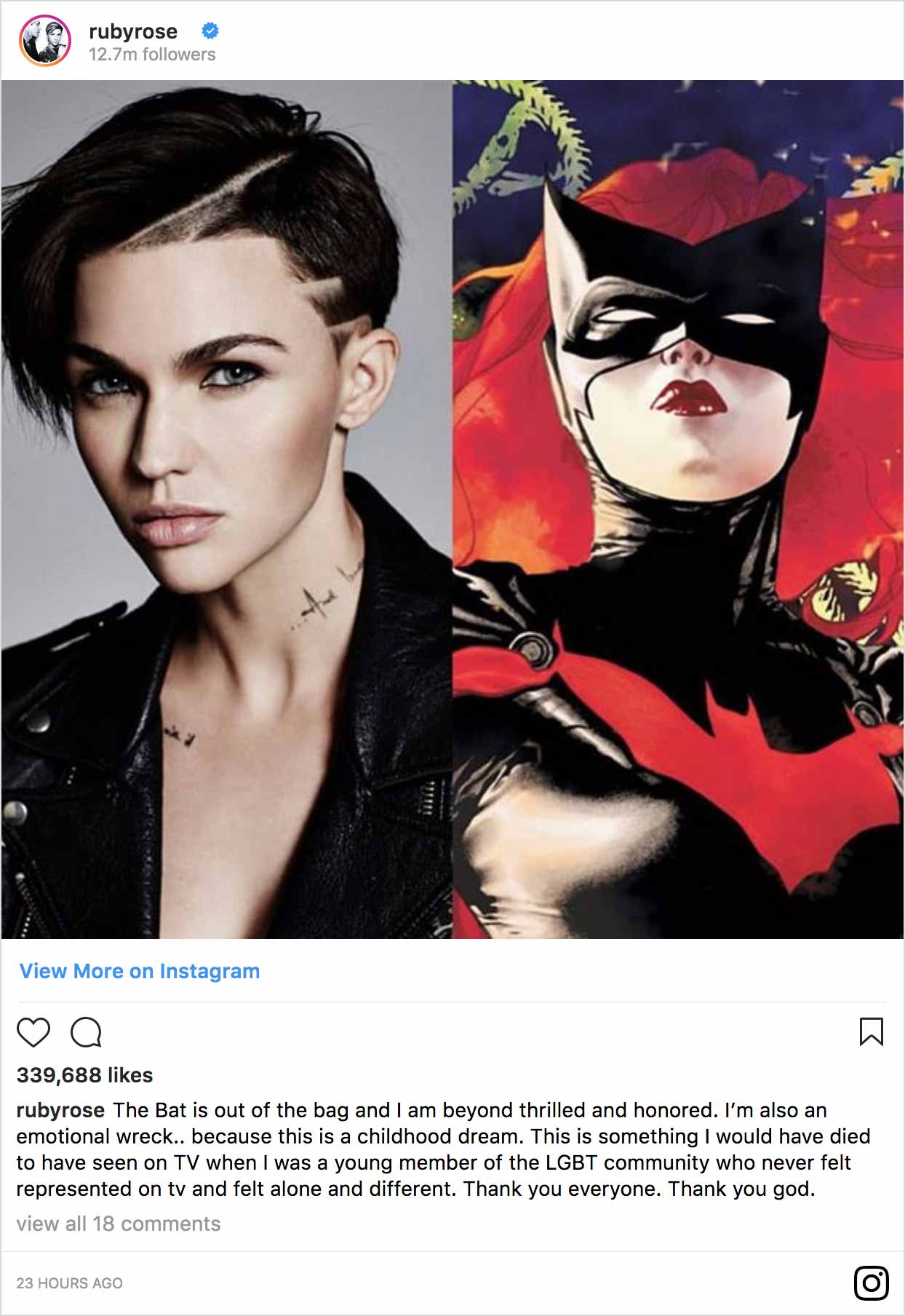 From this post it seems clear to us that Ruby is very aware of the monumental responsibility being Batwoman carries and it's also obvious she will treat the show and the character with care and grace.
Let us know your thoughts in the comments below and in the forum!
8/7/2018 10:43 am

Breaking news out of The Hollywood Reporter this morning, Batwoman has been found! Actress Ruby Rose from Orange is the New Black and John Wick 2 has officially taken the title of Kate Kane and Batwoman! This news is in line with what many were speculating after the show-runners put emphasis on the part being played by an out lesbian. Additionally, super fans might have noticed the casting director following the actress recently after a trip to Vancouver BC. For us, the part seems to be in good hands and we are excited to learn more about Ruby and her portrayal of the female Caped-Crusader. For now, the part is described as:
Armed with a passion for social justice and a flair for speaking her mind, Kate Kane soars onto the streets of Gotham as Batwoman, an out lesbian and highly trained street fighter primed to snuff out the failing city's criminal resurgence. But don't call her a hero yet. In a city desperate for a savior, Kate must overcome her own demons before embracing the call to be Gotham's symbol of hope. Based on the characters from DC.
Let us know your thoughts in the comments below and in the forum!
8/6/2018 12:03 pm

One of the great things in our opinion about the Arrowverse, is that it gives the ability for non-trinity characters (Superman, Batman, and Wonder Woman) to shine. That said, there are some characters that have deep ties to their more popular counterparts. For example, Superman and Supergirl. Supergirl needed to address the Big Blue Boyscout who has such a powerful connection to her orgin as Supergirl. That doesn't seem to be the case for Batwoman according to Entertainment Weekly. The CW boss, Mark Pedowitz was quoted saying this:
There's no discussion about a series. Batman already exists in the Arrowverse because last season, Oliver Queen mentioned his name at one point. And Batwoman, if the series goes forward, lives in Gotham. There's no plan at this time to have Batman appear.
Now this answer was in reference to if a Batman show was in the works, but his answer may give us much more than that. Because of the link to Oliver Queen, Batwoman is likely on Earth One. Additionally, with no need to include Batman in the Batwoman show, our discovered test dialogue may indicate that Batwoman is replacing Batman, at least for the time-being!
Let us know what you think in the comments below and in the forum!