Twitter campaign for Kate Kane

Batwoman Fans Launch "Kate Kane is Batwoman" Twitter Campaign

#SaveKateKane
#BatwomanisKateKane
They will still do a crossover with Supergirl and Batwoman I think, it will just have to happen later than originally planned. If they are doing a crossover with Superman and Lois with Batwoman first, that's cool too.
Judging by this new interview, it doesn't sound like the Superman cross-over is replacing the Supergirl one:
CW President Mark Pedowitz announced that there were talks for a Batwoman and Superman & Lois crossover. What made those the right pairing?

I don't know because I had heard rumors of it, but hearing it from The CW yesterday was the first time I was like, "Oh, okay, I guess this is happening." So, I'm just as excited as everyone else and I love working with Todd Helbing, so I'm sure we'll cook up something really special and you know, our finale touches on Kate and Kara and Kate is obviously very intimately knowledgeable about the Super-mythology. It'll be interesting for them to work together. I'm obsessed with Lois Lane, so I'm really excited about that.
https://ew.com/tv/batwoman-season-1-finale-bruce-wayne/
I look forward to both crossovers, and would also hope to see a cross-over with Flash some time in the future.
I don't think Batwoman and Superman have ever worked together in the comics, but Supergirl and Batwoman did fairly recently.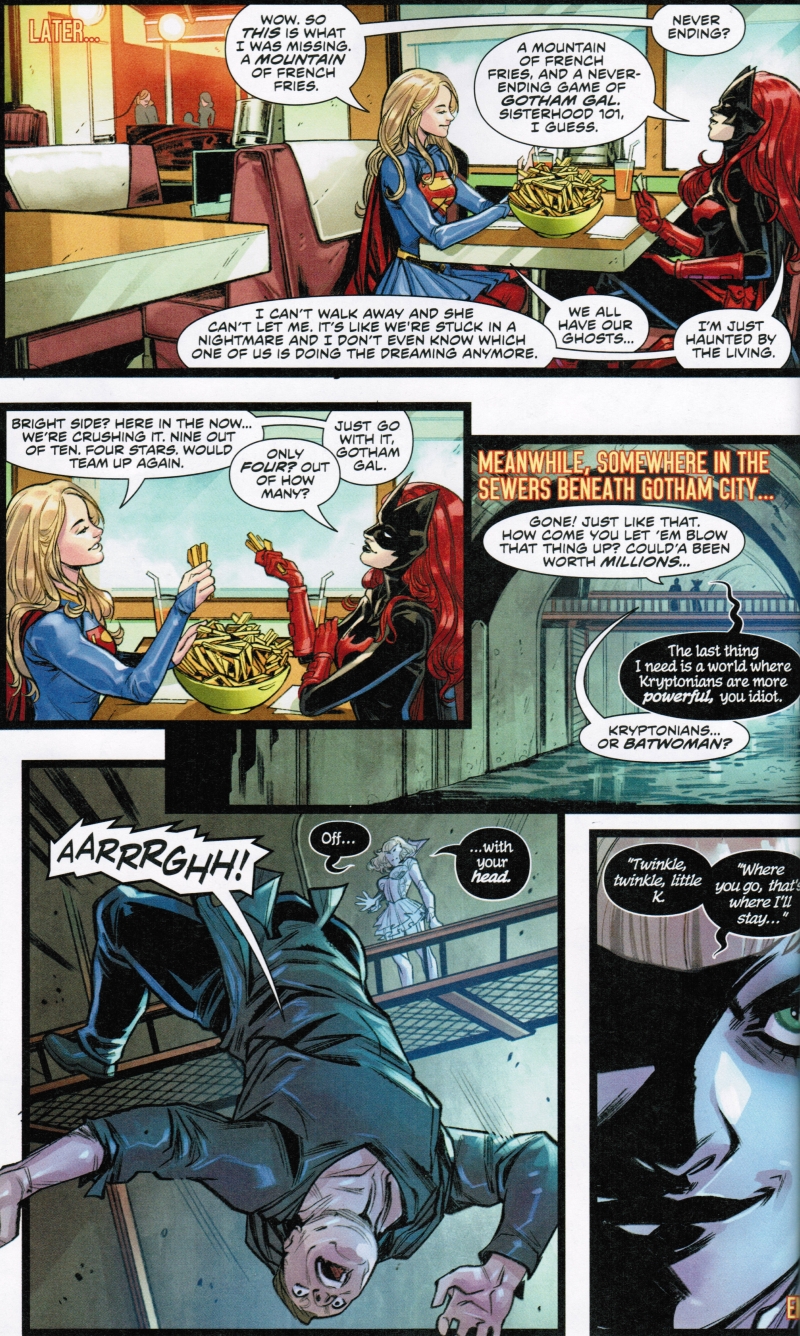 I hope Pedowitz isn't asking Dries to do World's Finest with Superman instead of Supergirl. I hope the Batwoman/Superman & Lois is a totally different story. I was quite upset when Bleeding Cool reported next season's crossover would be based on World's Finest. That would not be cool as the Batwoman/Supergirl World's Finest has been teased since Elseworlds.
Sounds ...nice.
But can't get any excited over it as the big Batwoman news of today is really, really, really sad.



The 2021 crossover will likely be just two hours... Superman and Batwoman with guest heroes from the other shows.
I liked that blacklist opted to finish the episode they were working on with animation sequences. That made me think an aninated crissover event featuring the Arrowverse cast would be interesting. They have dine Vixen, The Ray and Constantine but a true crossover with main cast would be fun.

Yes small event crossovers would be great. It will help limit the number of people required on set until they get a handle on Covid-19.
I read some weeks ago that they would rather make small crossovers next season.
And I would love to have a Batwoman/Supergirl Crossover, especially since Elseworlds!

Perhaps the next episode may deliver some hints in that direction.
There are no replies made for this post yet.
Be one of the first to reply to this post!
Please login to post a reply
You will need to be logged in to be able to post a reply. Login using the form on the right or register an account if you are new here.
Register Here »
Forgot Password?