Tuesday, 12 May 2020
I read some weeks ago that they would rather make small crossovers next season.
And I would love to have a Batwoman/Supergirl Crossover, especially since Elseworlds!

Perhaps the next episode may deliver some hints in that direction.
I liked that blacklist opted to finish the episode they were working on with animation sequences. That made me think an aninated crissover event featuring the Arrowverse cast would be interesting. They have dine Vixen, The Ray and Constantine but a true crossover with main cast would be fun.

Yes small event crossovers would be great. It will help limit the number of people required on set until they get a handle on Covid-19.
The 2021 crossover will likely be just two hours... Superman and Batwoman with guest heroes from the other shows.
Sounds ...nice.
But can't get any excited over it as the big Batwoman news of today is really, really, really sad.



I hope Pedowitz isn't asking Dries to do World's Finest with Superman instead of Supergirl. I hope the Batwoman/Superman & Lois is a totally different story. I was quite upset when Bleeding Cool reported next season's crossover would be based on World's Finest. That would not be cool as the Batwoman/Supergirl World's Finest has been teased since Elseworlds.
They will still do a crossover with Supergirl and Batwoman I think, it will just have to happen later than originally planned. If they are doing a crossover with Superman and Lois with Batwoman first, that's cool too.
Judging by this new interview, it doesn't sound like the Superman cross-over is replacing the Supergirl one:
CW President Mark Pedowitz announced that there were talks for a Batwoman and Superman & Lois crossover. What made those the right pairing?

I don't know because I had heard rumors of it, but hearing it from The CW yesterday was the first time I was like, "Oh, okay, I guess this is happening." So, I'm just as excited as everyone else and I love working with Todd Helbing, so I'm sure we'll cook up something really special and you know, our finale touches on Kate and Kara and Kate is obviously very intimately knowledgeable about the Super-mythology. It'll be interesting for them to work together. I'm obsessed with Lois Lane, so I'm really excited about that.
https://ew.com/tv/batwoman-season-1-finale-bruce-wayne/
I look forward to both crossovers, and would also hope to see a cross-over with Flash some time in the future.
I don't think Batwoman and Superman have ever worked together in the comics, but Supergirl and Batwoman did fairly recently.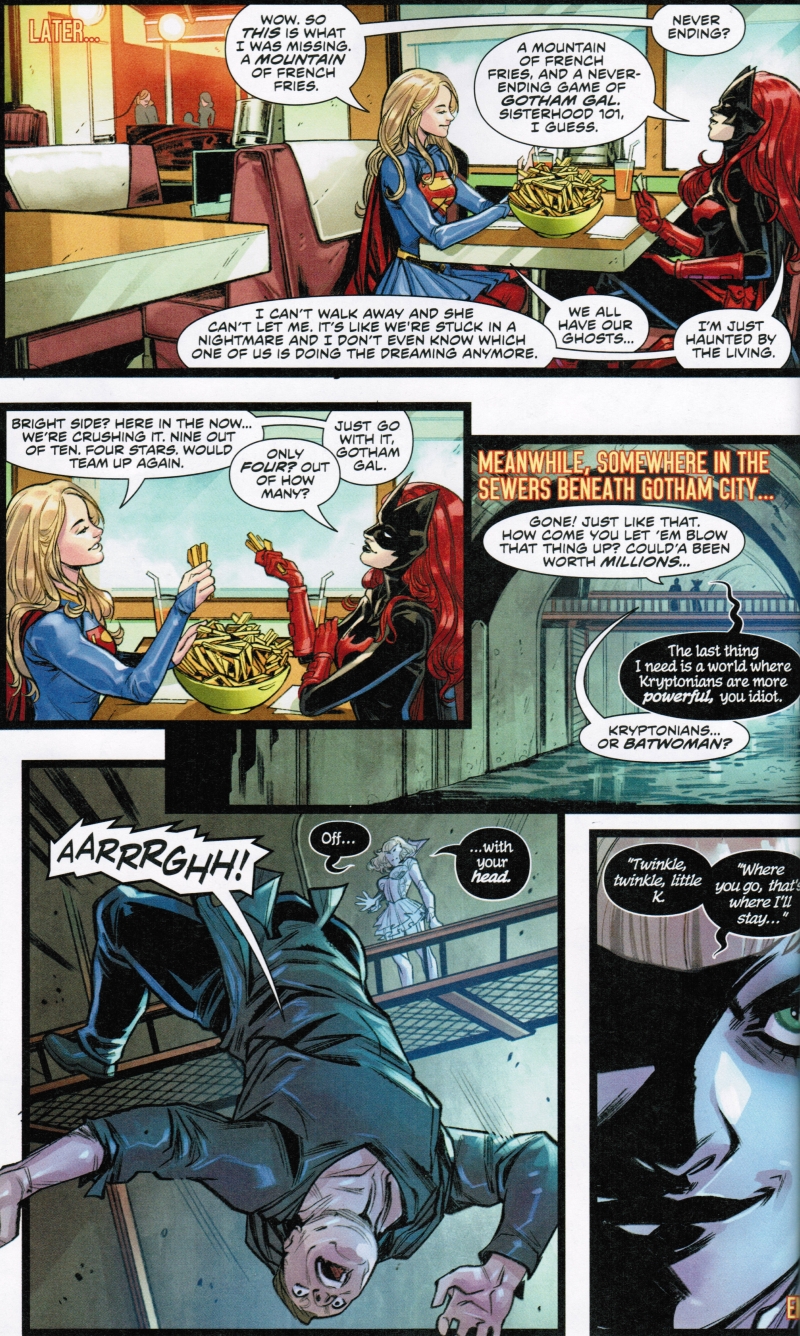 Twitter campaign for Kate Kane

Batwoman Fans Launch "Kate Kane is Batwoman" Twitter Campaign

#SaveKateKane
#BatwomanisKateKane
The Batwoman/Superman crossover has been canceled.


As Supergirl is ending, we shouldn't hold our breath for the female take of World Finest either
TV Line has confirmed that the Batwoman/Superman & Lois Crossover event for this season has been canceled.Also confirmed that Supergirl won't be dropping by either
https://tvline.com/2021/01/14/batwoman-season-2-javicia-leslie-arrowverse-crossover/

Batwoman's Javicia Leslie Wants a 'Super Black' Arrowverse Crossover

By Keisha Hatchett / January 14 2021



Javicia Leslie is ready to suit up and take on Gotham's worst. The God Friended Me alum will soon don the leather cowl when Season 2 of Batwoman premieres this Sunday (The CW, 8/7c). Leslie's Ryan Wilder takes over for Kate Kane, who will be missing in action following Ruby Rose's departure from the series in May.

With Leslie set to join the Arrowverse, the actress says she's open to mixing it up with her CW cohorts, like the cast of Black Lightning. However, all crossover plans will have to wait until next year due to the COVID outbreak.

"I'm so heartbroken about the COVID situation because I know that it's Black Lightning's last season, and I would have loved to do a crossover with them. Nafessa [Williams] and Jordan Calloway are really good friends of mine, and it would have been great to play with them and be superheroes all on the same show. That would have been epic," Leslie tells TVLine, noting that she'd still like to stage a crossover when it's safe to do so.

"Whatever show that has Black people on it, I'm going to do these crossovers with because I just want it to be a super Black crossover," she adds.

TVLine has confirmed that the previously announced Arrowverse crossover between Batwoman and Superman & Lois has been cancelled as a result. According to Batwoman showrunner Caroline Dries, that also means Kara Danvers likely won't be dropping by Gotham before Supergirl wraps this season.

"We're not really able to cross over because physically, we can't cross crews due to the fear of exposure to COVID," Dries explains. "So if Supergirl weren't ending this year, I would say there would be more of a possibility. But I'm afraid that at least this year, we're not going to be able to tap into that dynamic."

Batwoman's second season will focus on Wilder's journey as Gotham's newest caped crusader. She's Black, lesbian and has a criminal record. Dries describes her as a messy, slightly goofy and untamed woman whose life has been scarred by racial injustice and a troubled childhood. Wilder will use the batsuit as a way to escape those unhealed wounds and become powerful in a way that she can't outside of the suit.

Wilder won't just be inheriting those cool Batwoman gadgets, though; she'll also add her unique touches. Leslie reveals that Wilder will be making changes to the batsuit — among other things. "She wants to figure out a way to make this Batwoman comfortable for her, making Batwoman something that she feels represents her life, her path, the people that she represents."

Sounds like originally they had wanted a Supergirl appearance on Batwoman this season but the COVID-19 situation still in play scrapped that along with the Batwoman/Superman & Lois crossover.
Quoting myself from the Supergirl TV forum.
As for this season,even if they can't do a actual crossover this season,I would love to hear that Supergirl went looking for Kate off-screen(good way also to have a Melissa light episode at the start of the season due to her maternity leave.) and maybe mention there is a new Batwoman in Gotham on Supergirl.That would satisfy me just fine given the COVID-19 situation preventing any crossover for this season.An acknowledgment of Kate's missing status and the new Batwoman in Gotham can easily be done without any onscreen crossover.
Just watched the season 2 premiere of Batwoman and there are several Supergirl connections and a good setup for something along the lines of my quote.
1)The episode opens with Kate's plane arriving back in Gotham from National City when it crashes setting up her disappearance.
2)We learn from Luke later in the episode that Kate went to National City to talk to Kara about destroying the kryptonite bullet.We don't get a answer on what was decided due to the plane crash.
3)Luke accidently outs Kara as Supergirl to Hush thinking he's Bruce Wayne(not sure if that will play into anything since Hush is captured at the end of the episode and sent back to Arkham).
4)The new Batwoman was shot with the kryptonite bullet.
5)It looks like Ryan is going to suffer from kryptonite poisoning since pieces of the bullet are embeded in her wound.The showrunner confirms in a T.V. line interview that this will be a ongoing plotline.
My thoughts.
The opening of the episode certainly sets up a way to do something along the lines of what I want.
They very easily in the season 6 premiere of Supergirl could have a Melissa light episode by having Kara meet with Kate offscreen and then later in the episode have Kara mention what they decided to do with the kryptonite bullet.
Kate's plane crash could also then be mentioned on the show too.
Finally,I certainly can see now how they would of set up a crossover.meeting between Supergirl and the new Batwoman if we hadn't had the ongoing issue with the pandemic preventing crossovers via Ryan suffering from the kryptonite in her system.
I was just watching a season 4 episode of Teen Wolf, completely forgot Meagan Tandy was on it with Tyler Hoechlin. If the crossover did happen, it would have been a reunion of sorts for them. Several former teen woofers have made it over to Arrowverse.
There are no replies made for this post yet.
Be one of the first to reply to this post!
Please login to post a reply
You will need to be logged in to be able to post a reply. Login using the form on the right or register an account if you are new here.
Register Here »
Forgot Password?