6/17/2019 2:23 pm

Well here we go! Batwoman is going to kick off her first season on Sunday's just before Supergirl! The duo of superhero-women-shows are going to debut October 6th 2019! Batwoman will of course take the 8pm slot as we learned about earlier. As for episode count many have assumed that the show is going to do 13 episodes. We've seen some evidence to support that but additionally, if the show is well received, additional episodes could be ordered. At this point it is all just our speculation, no official comment from The CW has been given about any of their shows' episode counts.
Let us know what you think in the comments below and in the forum!
6/12/2019 9:33 am

Do you feel that? The heat is rising! No it isn't the record temperatures on the West Coast causing it, it's the ramp up for San Diego Comic Con and soon to be filming season 1 of Batwoman! The CW has released a brand new promotional short showing Kate Kane aiding a homeless person. She is then told by a crow (a private security guard that is like a police officer) to not do that, "it only encourages them". Kate then defiently returns to the homeless person and gives her Kate's watch! She then slyly walks past the guard and smirks and takes off on her classic motorcycle! SO COOL! But you don't have to just read about it, check it out for yourselves below:
Let us know what you think in the comments below and in our forum!
6/7/2019 9:41 am

Our friends at DC TV Podcasts are holding their annual charity event Saturday, June 29, 2019. We wanted to let everyone in our circle know about it because we really believe that we get such a wonder gift with the shows we watch, and the fandom we are in, it is important to pay that forward as well. Listeners can help raise money while also enjoying their favorite DC television podcasts for Arrow, The Flash, Supergirl, Legends of Tomorrow, Black Lightning, Krypton, Titans, Doom Patrol, Batwoman, Swamp Thing, Stargirl, as well as classic DC TV shows. This year, with the growth of the DC TV Podcasts network, the live event will now include an additional two hours! The podcasting fundraising event will be hosted via Mixlr at mixlr.com/dctvpodcasts and will begin on Saturday at 7 AM PST/10 AM EST.
This year, the charity that is being supported is Magic Wheelchair. You can learn more about them at their site here, but here's a little bit about them:
Magic Wheelchair is a nonprofit organization that builds epic costumes for kiddos in wheelchairs — at no cost to families. Our vision is to put a smile on the face of every child in a wheelchair by transforming their wheelchairs into awesomeness created by our hands and their imagination.
We hope you'll join us in supporting this incredible effort by DC TV Podcasts!
6/3/2019 11:11 am

After the Upfront presentations and before San Diego Comic Con is usually a quiet time for news. The shows aren't actively filming, the actors are usually on vacation or doing other projects, and the writers are hurriedly working to create the next season's path forward. As for Batwoman, there is a unique situation this year because the show is on it's first season. That means that while other Arrowverse shows don't have their first episode completed, Batwoman does (hence that amazing trailer we got). Well, amid the void of news, AdWeek.com was able to catch up with Ruby Rose and Caroline Dries (executive producer of the show) and get a few reactions now that the pilot is finished.
Caroline Dries, while creating the show and working on the crossover event that would bring Kate Kane into existence in the Arrowverse, was thinking:
We need a Ruby Rose. And it was like, 'That would be great, but that's not going to happen. She's a movie star.'
But to our delight, that didn't suspend the hail mary pass and producers reached out to Ruby regardless. Ruby was surprised at the pitch the producers had for her and what started as an open conversation began to cement. Ruby said this about the process:
When people see the show, they will understand why this character is so important to me and why after reading the script, it was a no-brainer that I would happily spend as long as I'm allowed to playing this character, over trying to find new ones. It's very rare that something feels that special. And if it feels that special, it seems impossible that it couldn't be special.
For more on how Ruby learned about Kate's journey and the toll stunts and storytelling took on her, head over to Adweek.com to read their piece.
Let us know what you think in the comments below and in the forum!
5/30/2019 10:34 am

There is an allure when it comes to the Bat family of characters. They are polar opposites from classic superheroes, especially those in the "Super" family. They use their own tragedy and almost superhuman drive to create fear for their enemies. Going against Supergirl, you know you are going to lose but you don't fear for your life. Fighting Batwoman you very much could lose a limb or worse (though not necessarily die). That juxtaposition is what is making Batwoman a very dark show indeed!
Batwoman production designer Lisa Soper spoke with Inverse.com about the tone of the set she created for the show. Soper, who also was the creator of the set of Netflix's Chilling Adventures of Sabrina had this to say about Batwoman's set:
I just watched the trailer for Joker, and Batwoman feels very much more in that realm tonally. I will definitely say that we have created something completely different. The crossover was very much a taste and introduction to Kate Kane and Batwoman, giving the audience a little teaser.
In case you haven't seen it, here is the trailer for the Joker, which has a totally different kind of disturbing feel than Heath Ledger's Joker (our current personal favorite but Joaquin Phoenix's take on the character could really impress us).
Soper went on to explain that her Gotham had to be different from Fox's Gotham and she looked to the comic books for inspiration:
We did look at Gotham quite a bit in the early days when we got started. We wanted to make sure that we weren't making Gotham. What does Gotham look like after Batman's gone? We had to put ourselves in a polar opposite spectrum of where Gotham has been. I really wanted to lean into the color palette of the comic book itself, which is that monochromatic field with those punches of red. Gotham is a lot more into the blues and the golds. We both have nods into the Art Deco elements of our world, but I went a little bit more edgy stylistically.
Soper closes with a very bold statement which we are very excited about:
I believe that we've kick-started a Gotham City that everybody's going to be pretty excited about. It's not Sabrina, it's not The Flash, it's not Arrow — It's Batwoman.
Looking back on Elsewords (which can be viewed on Netflix right now) we can remember a very distinct feeling of how the other characters, Flash, Arrow and Supergirl, all felt like they were awash in darkness just by being in Gotham. Good example below: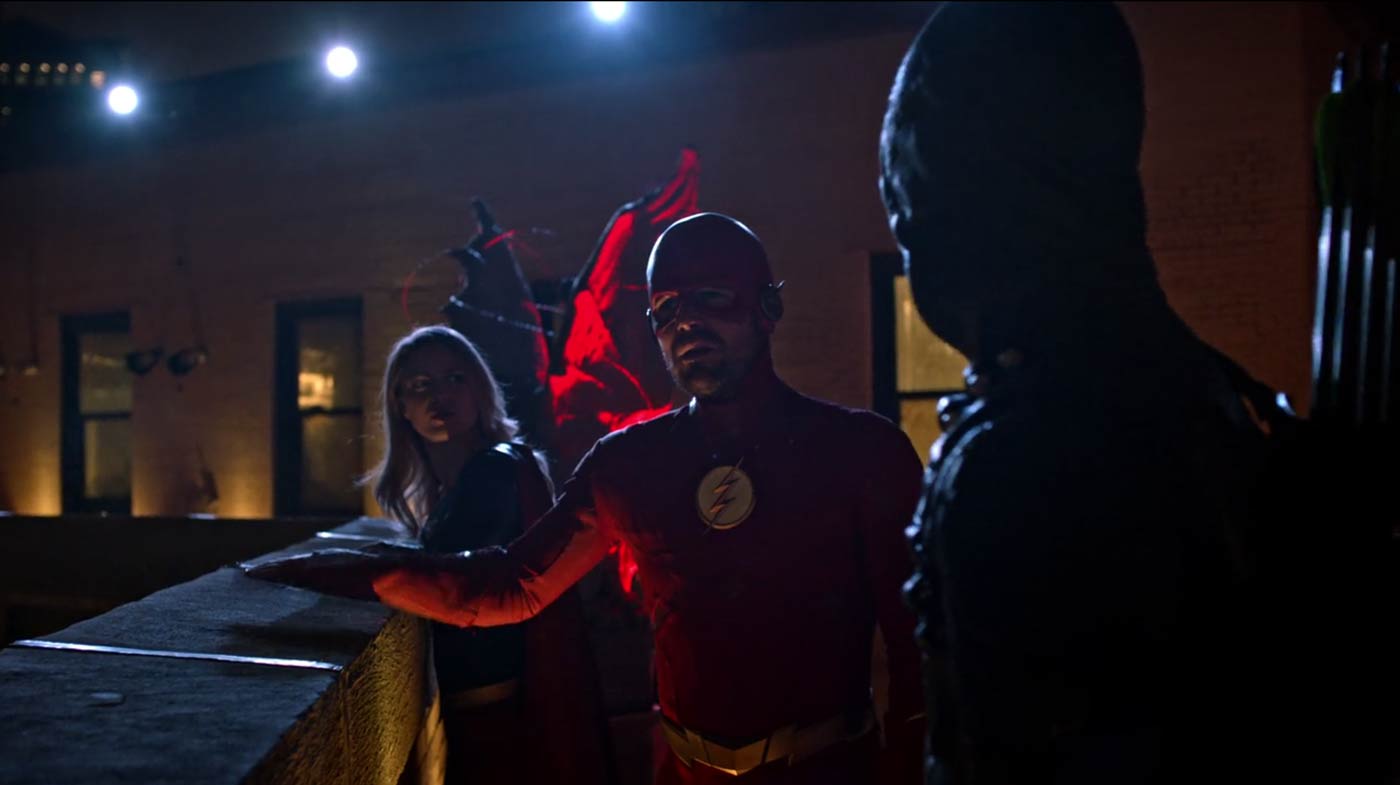 We couldn't be more excited about seeing a post-Batman Gotham like Soper described! Let us know what you think in the comments below and in the forum!