12/6/2018 5:24 pm

It wouldn't be a CW DCTV show if our hero wasn't surrounded by a team of supporting characters and possibly supporting heroes. Before reading on, this news article contains what will likely be pretty big spoilers for the Batwoman pilot. If you are not looking to learn about characters featured in the pilot and by extension, the show, this might be a news article to skip. ThatHashtagShow has come across the casting call character descriptions for Batwoman. The first character is Joseph. He is described as:
A Caucasian male in his late 40s to mid-50s. Joseph is described as a former high ranking military Colonel, who instead of grieving the terrible loss of his wife and one of his daughters, formed his own army in order to make sure no one else has to ever go through the tragedy he had to experience. Joseph also leads a private security and logistics firm in Gotham City, called "The Crows." He is both extremely tough, political as well as emotionless, but has one weakness in his life that makes him soften up…and that is his other daughter who he constantly tries to push away.
Much like casting for Mar Novu, character names have been changed to protect the real character being cast. Mar Novu was once called Lon-El as a mislead. Taking that into consideration, Joseph is likely the father of Kate Kane who we know suffers the loss of one of his daughters and his wife. The next character description is for Alexa. She is described as:
A 27-year old Caucasian who is Batwoman's greatest enemy, basically her own personal Joker. Alexa is a woman who has experienced a tremendous amount of trauma in her more sensitive years. That has in turn caused Alexa to divorce herself from reality by living in a fantastical world where she is the star. Attached to Victorian attire, Alexa is a charming lunatic who manages to go from being psychotic to caring easily, which is why her unreliable behavior is a dangerous weapon in itself.
Yet again this is not likely to be a character named Alexa but instead Alice, Kate's twin sister Alice. If this is the case, then Ruby Rose is going to have a fun time with the duality of this part, then again, perhaps it is someone different. Next up is a female character named Sloane. She is described as:
A Latina in her late 20s/early 30s. Brought up in a tight-knit family, Sloane is both feisty, charming and has incredible fighting abilities, with soldier experiences, as she is one of the best agents for the Crows and always goes by the book. But Sloane is hiding a deep secret from her husband which is that once upon a time, she was in love with Kate Kane.
Comic book fans have been curious about this for a while. Would Maggie Sawyer, played by Floriana Lima return for Batwoman or would the romantic interest go to Renee Montoya. Judging by the description above, it would seem Renee is the likely victor. This will actually mark the second time this year Renee has had a casting call out. The part of Renee Montoya is being played by Rosie Perez in the Birds of Prey movie by the DCEU. Next up, we have Landon. He is described as:
An African-American male in his early 20s who is devoted to Batman. Landon comes from an imperative legacy that has serviced the Caped Crusader with engineered gadgets. With Wayne Enterprises now abandoned, Landon is the one keeping it secure. While he is brilliant with tech, his social skills aren't exactly the strongest as he goes out of his way to not make friends, after being betrayed by Gotham's bureaucracy. With the Dark Knight missing, Landon soon begins to understand Gotham City's demand for a new hero.
Comic book aficionados might recognize this role as Luke Fox, the son of Wayne Enterprise's Lucius Fox (played by Morgan Freeman in The Dark Knight Trilogy). He could very easily be on team Batwoman or be his own brand of hero. Moving on, we have a character named Meredith. She is described as:
A woman in her early 20s, a role that is open for any ethnicity, with preference to Asian or Latin actresses. She is described as carrying a lovely and heavy demeanor, which makes it easy to view her as an air-headed amateur. Although she is considered talky, she is deeply compassionate toward those the city has forgotten, with her compassion only surpassed by her own intelligence. Like Kate Kane, Meredith will have a secret life of her own in Gotham City.
If this sounds like Bette Kane, then you might be right on the money. She, of course, has her own alter-ego, Flamebird. If ever there was going to be a team Batwoman with multiple heroes like all the other CW shows, then you can bet on Bette! Finally, we have Meredith's mom, Charlotte. She is described as:
A woman in her late 40s to mid-50s who is the mother of Meredith, hence the same casting preferences is part of this role. Charlotte, a knowledgeable, fashionable, and motivated woman, comes from wealth built from an empire of dealing arms, but she uses this money with the intent on making Gotham a more secure and safe place due to the aid of her husband's paramilitary business. Despite the fact that it is damaging Charlotte's relationship with her daughter, she continues to pull the strings of Gotham City's elite.
So pending on Meredith being who we believe she is, this would be Bette's mom! Whew, sounds like a pretty solid cast to get started with! Now only if we could get Michael Keeton to play "Joesph" *wink. Let us know what you think of these characters and if you think they will help build up the Batwoman show in the comments below or in our forum! Only thee days to go until Batwoman makes her first appearance!
12/6/2018 2:14 pm

Our countdown clock has never looked so good! Mere days away from the three night crossover event and we are now learning through Entertainment Weekly, that Kate is actually the current head of Wayne Enterprises in the crossover (since Batman has been missing for three years). Even more fun is that Kate and Kara will take the opposite route of Batman v Superman (thank goodness) and form a fast friendship. Both Melissa Benoist and Ruby Rose sat down to talk about their characters' interactions in the upcoming crossover. Melissa Benoist [Supergirl] had this to say:
We shot a scene in Wayne Enterprises together, and it was just the two of us, just these two women breaking the ice with each other. It's rare that I get scenes like that. I have scenes like that with Grant and Stephen all the time, but I was very excited to do that with another strong female. I've not really gotten to have scenes like this with other female characters [like] Sara Lance [Caity Lotz] or Black Canary [Juliana Harkavy]. In the way that Barry and Kara are so light and such good friends, I think Kate and Kara have a lot more in common and can really understand each other.
Ruby Rose went on to add:
It was nice because when Kara met Kate, it was in Kate's space, and it was fun because there's this power dynamic. You got someone like Kara, who is just so sweet and nice, and I think [with] Kate, who is not one to trust people and doesn't really have a lot of time for what's happening right now, you see it's impossible not to be charmed by Kara. You see the warmth in what I think would be a budding friendship. But it's also really fun making Melissa/Kara uncomfortable.
Caroline Dries, Executive producer of Batwoman (should it get a series order) fought to get a scene where we could see Kate and Kara interact. She even has gone on record saying that it is one of her favorite scenes in the crossover!
Let us know what you think of these two becoming fast friends in the comments below and in the forum!
12/4/2018 9:41 pm

Elseworlds is big! So big that we are meeting our first 'Bat' character in the Arrowverse! These three nights basically equate to the Arrowverse releasing their third full-length movie. With the struggling DCEU movie empire, the Arrowverse has hit enough elements of truth with comic fans and non-comic fans alike to be the most successful DC Universe on any screen. The Arrowverse might be the first television universe to create over 1,000 hours of original programming. All of that said, can it be any more perfect that outside the United States fans are just as excited? Australia has negotiated the ability to also concurrently share the Elseworlds three-night event for their Fox network! They even created their own trailer for the event! Check it out below:
Let us know what you think of the Australian or international trailer in the comments below and in our forum!
12/4/2018 8:20 pm

You've seen her as Batwoman as she kicked butt all across Arkham Asylum in the trailers we've seen so far. Tonight, amid The Flash's 100th episode, The CW debuted the extended trailer for Elseworlds and we got our first look at the other Ruby Rose persona, Kate Kane. It is mere seconds long, but we can see how she looks and a bit about how she acts. As you may know, Caroline Dries, who is actually developing Batwoman as a show, wrote the story for the parts that Batwoman is in and we are going to get the best indication on what Batwoman the show, will be like from these story elements. Now that the news is reported, WE ARE SO EXCITED!!!! This is going to be amazing!
Let us know are you excited too? Comments are below and the forum is alive!
12/3/2018 3:21 pm

Batwoman is going to grace our screens in one week! We are so excited to see Ruby Rose as Batwoman. From many if the images and sneak peeks we've seen so far, her costume is amazing! To add yet another look at the famous female caped-crusader, The CW has released a new banner of the #Elseworlds crossover event. This features Batwoman, Supergirl and all the other heroes. It also introduces a robot man who we are unsure of and features the ominous black-clad Superman! Check it out below: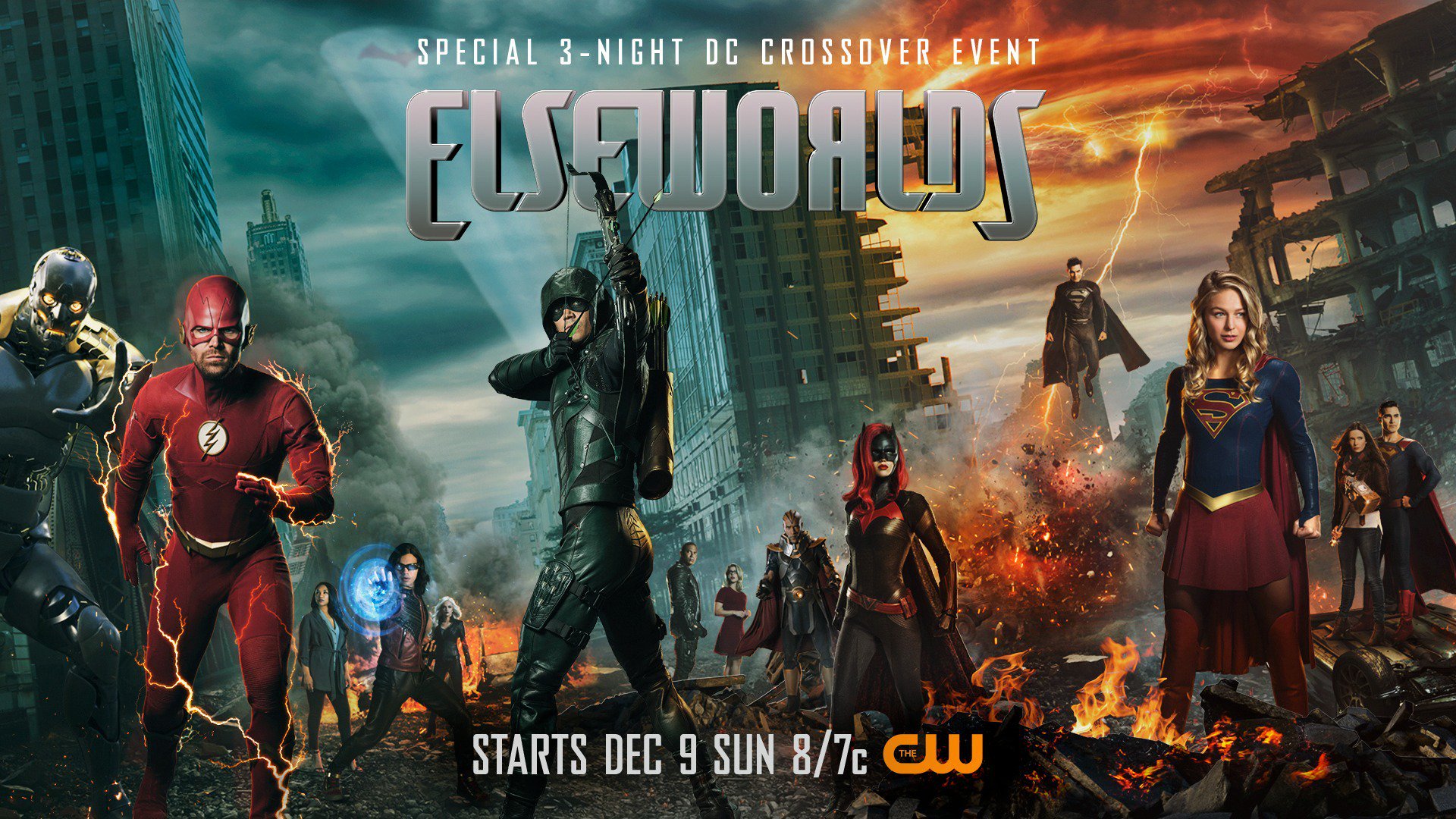 Let us know what you think in the comments below or in the forum!