1/17/2021 5:55 pm
We can't tell you how good it feels to be back at it! The world knows the pain that has been caused by the Corona virus and beyond all the personal impacts, we all know that the Arrowverse came to an abrupt and somewhat unfulfilling conclusion last year. This couldn't be helped due to the seriousness of the pandemic. Today, however, the Arrowverse returns to our televisions and Ryan Wilder is about to take up the mantle of Batwoman. Last season, Alice turned Tommy Elliot into Bruce Wayne! Her big final plans for Kate were starting to take shape and Tommy was about to reappear as Bruce! So did Tommy make his play? What happened to Kate? Let's get those answers and more as we recap Batwoman season 2 episode 1!
Ryan Wilder: Sitting in her van/home we open on Ryan dreaming/remembering a time when she and her mother were moving into a new apartment. She is startled awake to see a private plane crash! We cut to Luke and Mary who note Kate was returning from National City. She was meeting with Kara Danvers about the Kryptonite. Ryan finds a homeless man injured from the crash and she begins CPR flashing in between a time when she performed the same on her mother. As Ryan sifts through the wreckage she finds the Batsuit while Luke and Mary realize that it was Kate's plane that went down!
Bruce Wayne: Utilizing the crash as pretense, Tommy makes his return as Bruce Wayne. Immediately Tommy is lost as to how to get into the Batcave. Luke finds it odd but doesn't hesitate to take him down into the cave. At the Crows headquarters, Sophie and Julia share a moment of despair not being able to find Kate alive or dead. Sophie thinks Safiyah might be behind the crash but Julia assures Sophie that she knows what Sophie knows, nothing more. Meanwhile Jacob faces the torment of another daughter taken from him. Tommy waltzes through the cave gathering information. He wants the Batsuit.
Batwoman: Ryan puts on the suit and discovers how powerful the suit can be. She hunts down members of the False-Face society to ask for information. Having the suit online means that Luke can track it. Meanwhile, Tommy takes full advantage of his playboy alter-ego. Alice walks into Bruce's mansion where she reveals her master plan. She was going to put the Kryptonite in the eyes of Jacob. The Crows war with Batwoman would have escalated to a stand off with Batwoman and Jacob would have used the Kryptonite to stop Batwoman all too late to realize he killed his own daughter. A pretty shocking plan if she could have pulled it off. Instead she drinks away her sorrow and kills Tommy's consorts at random.
Not Your Batwoman: Luke and Mary hunt down Batwoman and discover it's not Kate but Ryan wearing the suit. We discover that Ryan is hunting down the killer of her adoptive mother. She won't give it up until she gets her vengeance. Tommy heads to the Crows headquarters to tip off Jacob where Alice is. If he can get Alice out of the way, Tommy can steal Bruce's life fully. On his way out he finds Julia. Julia tests him with knowledge about Alfred but Tommy fails. Julia doesn't tip that she knows he isn't Bruce Wayne. Mary begins to investigate Ryan and discovers that it was the Wonderland gang that killed her mother, that's why she wants the suit, to get revenge on Alice. As Ryan learns more about Kate, she sees the hero that Kate really was. Ryan decides to give up the suit. She turns on the tracker so Luke can come get it.
Batmobile: Julia tells Luke and Mary who Bruce really is! Back at the cave, Tommy is able to hunt down and find the Batmobile. With the tracker on, he is on his way to find the suit and take it from Ryan. Jacob goes to confront Alice at Bruce Manor. Alice reveals that Kate was Batwoman all the time! Her big plan isn't possible anymore so this last jab is the only thing Alice can do to hurt Jacob. Shocked by the realization, Alice easily takes the gun from Jacob and walks out. Luke is able to get Ryan on the move and Tommy chases Ryan in the Batmobile. Luke is able to hack into the Batmobile and stop it. This gives Ryan time to get the suit on. Tommy ends up shooting Batwoman with the Kryptonite but it doesn't fully puncture. Tommy smashes Ryan's adoptive mother's ashes by accident and it sends her into a rage. She ends up beating the face off of Tommy who can no longer pretend to be Bruce.
In the final moments of the episode, Ryan returns the suit. Mary and Ryan share a moment and Ryan realizes that the suit is meant for a hero. Julia gives a letter that Kate wrote Sophie. She knows that Sophie was still in love with Kate. In the note, Sophie discovers that Kate was Batwoman. Jacob turns on the bat signal to see no one will come. Alice gets a note from Safiyah taking credit for Kate's plane crash. Alice now has a new enemy to focus on! We end on Ryan examining her wound. She looks like she might be poisoned by the Kryptonite that did get through the suit.
Let us know what you think in the comments below and in the forum! Don't forget to follow us on Twitter.
1/15/2021 11:09 am

Has the countdown clock ever looked so good? Only a couple of days left to the return of the Arrowverse, the debut of a new Batwoman and the vengeance-seeking Alice's plans continued! As we start to return to the ebb and flow of weekly television we are looking ahead to future episodes. While the images for the second episode are available we are now looking ahead to the third episode of season 2, "Bat Girl Magic". The synopsis was released and shares three major elements, Victor Szasz will make his debut, Alice will catch Safiyah's eye and the Batsuit is taking on a new look! Check out the full synopsis below:
NEW HERO, NEW SUIT - As Ryan Wilder (Javicia Leslie) continues to prove herself as Batwoman, she encounters the challenge of every superhero – living a double life. Mary (Nicole Kang) is still Team Ryan, while Luke (Camrus Johnson) continues to have reservations – especially when Ryan makes some alterations and unveils a new Batsuit! Meanwhile, Victor Zsasz (guest star Alex Morf) is slashing his way through the city streets, and Commander Kane (Dougray Scott) has The Crows trying to stop the flow of Snakebite through Gotham. Safiyah (guest star Shivaani Ghai) takes notice of Alice's (Rachel Skarsten) antics and Sophie (Meagan Tandy) finds herself in unexpected circumstances. Holly Dale directed the episode written by Nancy Kiu (#203). Original airdate 1/31/2021.
Let us know what you think in the comments below and in the forum! Don't forget to follow us on Twitter.
1/12/2021 10:18 am

It's so close Bat-fans! Are you excited? We certainly are! This makes us remember a pre-covid time. Things are starting to feel more normal with the pending return of the Arrowverse and we couldn't be more enthused that it's our caped-crusader leading off the new year! If you haven't checked it out yet, we have our spoiler free review of the first two episodes in the history below. Speaking of the second episode, today The CW shared eight brand new images from "Prior Criminal History". One image is standing out in a major way to us. It looks like Alice gets the jump on Julia Pennyworth! Could this be the end for Alfred's daughter? Check out the images below:
Let us know what you think in the comments below and in the forum! Don't forget to follow us on Twitter.
1/12/2021 9:19 am

Batwoman is looking to go all out in it's second season. With a new character taking up the Bat-mantle, having one season big bad would certainly be enough. But that wasn't enough for showrunner Caroline Dries! According to Entertainment Weekly, Batwoman's second season will be introducing yet another big bad to menace the streets of Gotham! For those of you who saw Bird of Prey (back when movie theaters were a thing), this is the same character that Ewan McGregor played. Dries went on to explain the complex relationship the new Batwoman would have with Black Mask, his False Face Society and the drug market in Gotham.
While Ryan never used drugs, she was in a relationship where somebody was using drugs and it's ultimately what got Ryan put away in jail. So, it's this idea that Ryan is this innocent woman and if she were white, per se, she might not have had the same punishment [that] she, as an innocent Black woman, had to go through. That's a huge piece of her backstory, so that's something we're exploring this year. Batwoman has this particular vendetta against the False Face Society because the idea of drugs permeating the city and nobody taking any responsibility for it strikes at her core.
With less than a week left until the return of the Arrowverse and the debut of Ryan Wilder's Batwoman, Caroline Dries as really set the stage for a fantastic and massive sophomore year! Let us know what you think in the comments below and in the forum! Don't forget to follow us on Twitter.
1/11/2021 11:41 am

Less than a week away from the return of the Arrowverse and the debut of Ryan Wilder as Batwoman, we simply couldn't be more excited for fans to see the new Batwoman in action! Today we are looking ahead to the second episode of season 2 via a new episode synopsis as well as Entertainment Weekly debuting the first look at the season villain, Safiyah. For the synopsis, check out the full description below:
DOWNRIGHT BATTY – After her quick spin in the Batgear, Ryan Wilder (Javicia Leslie) is back to facing the daily challenges of life as herself. Meanwhile, Alice (Rachel Skarsten) has a new, devious plan to get the attention of both Gotham and Safiyah (guest star Shivaani Ghai). With Kate still missing and the city in an uprising, Luke (Camrus Johnson) and Mary (Nicole Kang) are desperate to find a stand in. In a pinch, Ryan dons the suit again and comes face-to- face with Alice for the first time. Back at Crows Headquarters, Sophie and Commander Kane try to uncover who may have had a vendetta against Kate. Carl Seaton directed the episode written by James Stoteraux and Chad Fiveash (#202). Original airdate 1/24/2021.
As for the first look at Safiyah, head to Entertainment Weekly for the full reveal, a preview can be found below: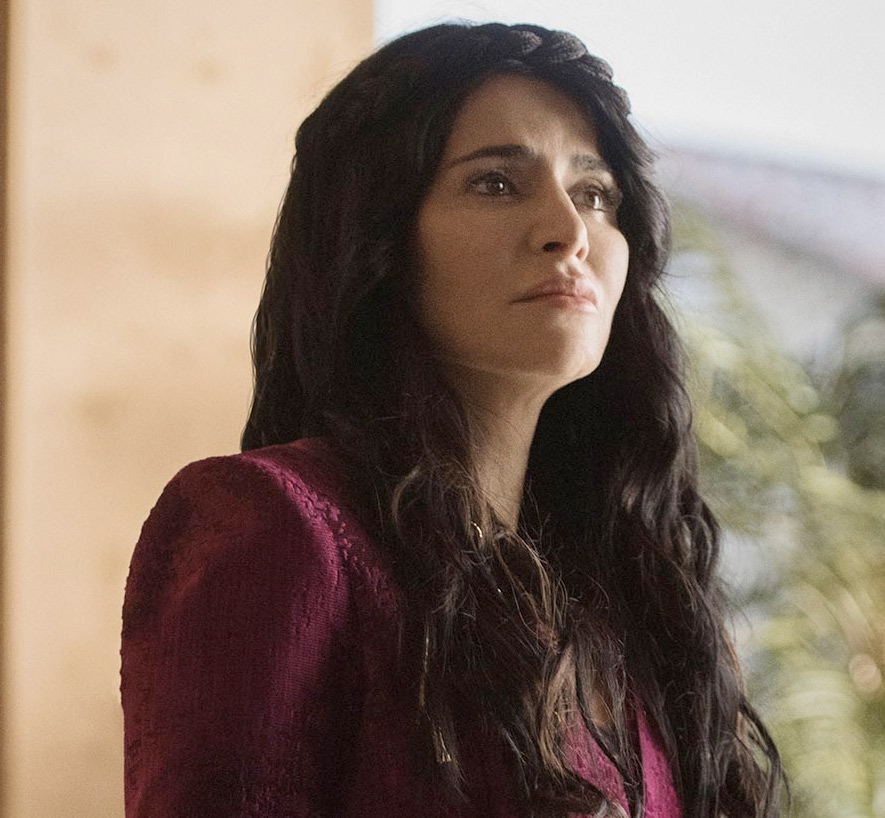 Let us know what you think in the comments below and in the forum! Don't forget to follow us on Twitter.