11/19/2018 7:17 pm

Since Stephen Amell announced Batwoman would be on this year's crossover, history was made. This will be the first time Batwoman is in a live-action television show, or for that matter, live action at all! We learned Ruby Rose would take up the part and we then sat waiting to know what that famous black and red Batwoman costume would look like. Then it was October 8th when we finally got to see Ruby in her iconic suit. While all of those have been tremendous milestones, one thing we haven't seen is the live-action Batwoman. Today, that changes! While it is short, The CW has released a teaser that shows Batwoman at Arkham Asylum with Green Arrow (Barry's version) and Cisco both struck in awe. Check it out below:
Let us know what you think of the new teaser trailer in the comments below and in the forum!
11/19/2018 1:38 pm

Here we go! We are less than three weeks away from the debut of Batwoman! Of course the whole Arrowverse will be included as well with Superman making his first appearance with Lois Lane, Flash and Green Arrow. The images below show all three parts of the crossover event. As for Batwoman, there isn't too much new but it does give us a look at this major crossover event with all of the Arrowverse (minus Legends). We do get our first candid look at the Monitor though! Check out the amazing images below:
Let us know what you think of the crossover images in the comments below and in the forum!
11/19/2018 11:50 am

We've mentioned it before, when you have characters like Batwoman or Supergirl, the inevitable question of where are their counterparts comes up. Kate's choice to be Batwoman is in reference to Batman saving her (at least in some iterations). So much like Supergirl did in season one, the crossover, which introduces us to the first live-action Batwoman, will address Batman. Caroline Dries, consulting producer on Elseworlds and Executive Producer of Batwoman the tv show (if it gets an order) had this to say to Entertainment Weekly about building Gotham for the Arrowverse:
Our approach is: What does Gotham look like after the Batman has been gone for three years? So if you have the law and order, protector, and hope gone, what happens as a result? Some people are thriving in his absence because now they can start to do their own thing without the oversight. A lot of other people are suffering and they're losing hope, and the city itself and infrastructure is falling apart. So it's not a happy place. Our guys walk into a grimy, scary Gotham.
Executive Producer of Legends of Tomorrow and several of the other Arrowverse shows, Marc Guggenheim added this:
It's a dead city. The way I sort of described it to Stephen is, it's there but for the grace of God goes Star City. It's the worst case scenario. The reason no one talks about Gotham is the city might as well be dead. It's practically a ghost town.
The question of if the Batman even exists is discussed outside of Gotham. Just about the only way people know about him was to have first-hand experience. Stephen Amell and Grant Gustin talked further about their time in Gotham and their characters' take on Batman in this Entertainment Weekly article. Read more here.
Let us know what you think of Gotham for the Arrowverse in the comments below and in the forum!
11/16/2018 10:44 am

It has become a bit of a tradition to have a talented comic book artist do a comic book style cover for the crossover events. This year is no different and the iconic Amy Reeder has been tapped to do this year's rendition of the cover. Elseworlds welcomes Superman, Supergirl, The Flash, Green Arrow, and Batwoman all interwoven to stop Dr. John Deegan who's somehow gained the ability to rewrite reality to his will. Check out the poster that Amy did commemorating this event below: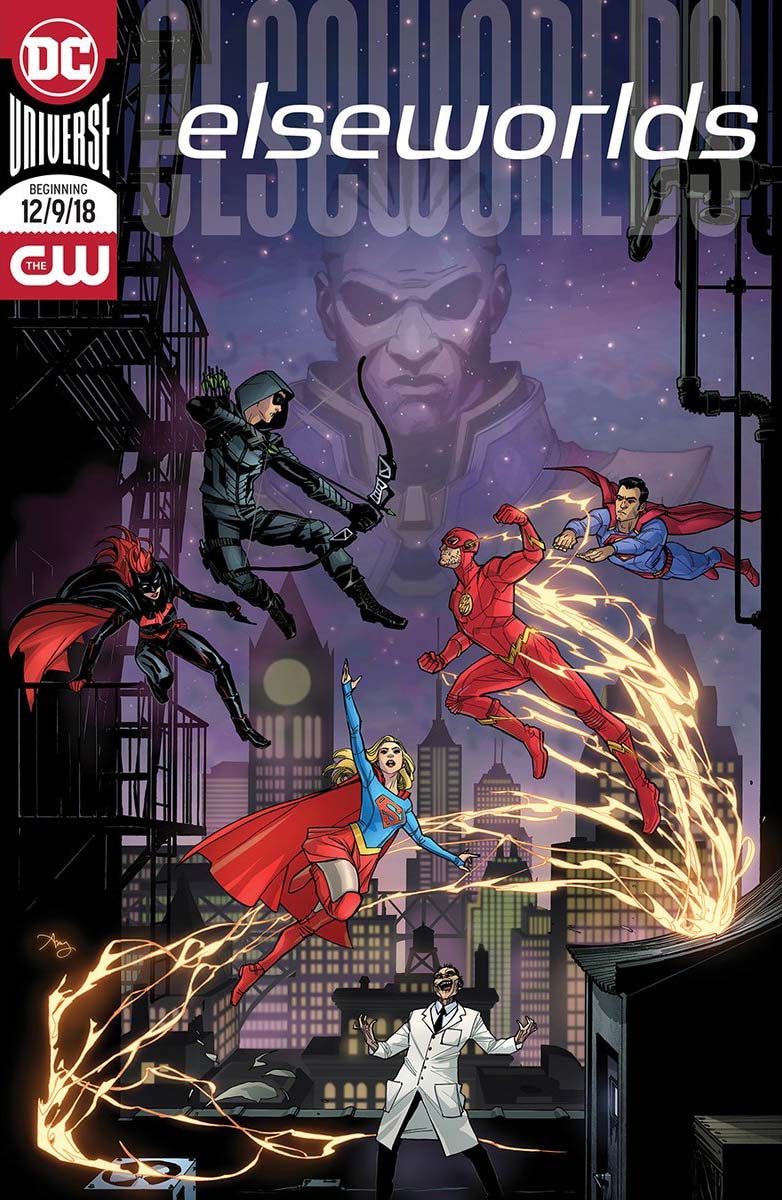 Let us know your thoughts on this poster in the comments below and in our forum!
11/15/2018 6:42 pm

Tonight we are learning some new details about the crossover event that will introduce the world to the first live-action Batwoman played by Ruby Rose! Since the announcement that Elseworlds would include Superman, Lois Lane, The Monitor, Psycho Pirate and Doctor John Deegan, fans have been wondering how all these characters would be involved together. Entertainment Weekly sat with Executive Producers and title characters of all three shows to discuss just how that was going to take place.
The major event that will bring the Trinity of CW's heroes together will come from Doctor John Deegan, who through untold means, will rewrite reality. One of the consequences of that will be Oliver and Barry swapping places. In this new reality, Oliver Queen looks like Gustin and Barry Allen looks like Amell, and the two heroes are the only ones who know they're in the wrong lives and have each other's powers. Grant Gustin had this to say:
You're not going to see me playing Oliver Queen's mannerisms, or Stephen playing Barry's mannerisms. It's more being aware that for some reason we've switched lives and destinies. It's more the fun of the situational comedy that we keep finding ourselves in, and less us having a complete role reversal. We get to see Stephen do some of the more goofy speed stuff I have to do on a regular basis, and I get some actual combat as Green Arrow. So, we just see different colors for each of us.
Steven Amell excitedly added:
Having superpowers is crazy! Wearing the Flash suit is crazy! The idea is that in order to be the best version of Barry Allen, which I have to be because we face a threat, there are elements of his personality I have to embrace, and there are elements of my personality that he has to embrace.
Melissa Benoist (Supergirl, who hails from a different universe than Oliver and Barry) had this to add:
My initial reaction in reading the scripts this year was that it would be a hoot to film. The comedy just lives in this. Even just seeing them in each other's suits is funny; they're literally putting themselves in each other's shoes! [Supergirl is pulled into the situation because she is the only one who can tell the two are swapped] She inevitably becomes kind of a middleman because ultimately there's conflict between the two and they start butting heads.
Fans can look forward to a scene with the three title characters trapped in an Arkham Asylum prison cell, a Batwoman and Vibe team up, and three chapters of this story where each retains the feeling of their own initial show. To see what Executive Producer Marc Guggenheim had to say about the crossover and their choice to not include the Legends, head over to Entertainment Weekly to read the rest of the article.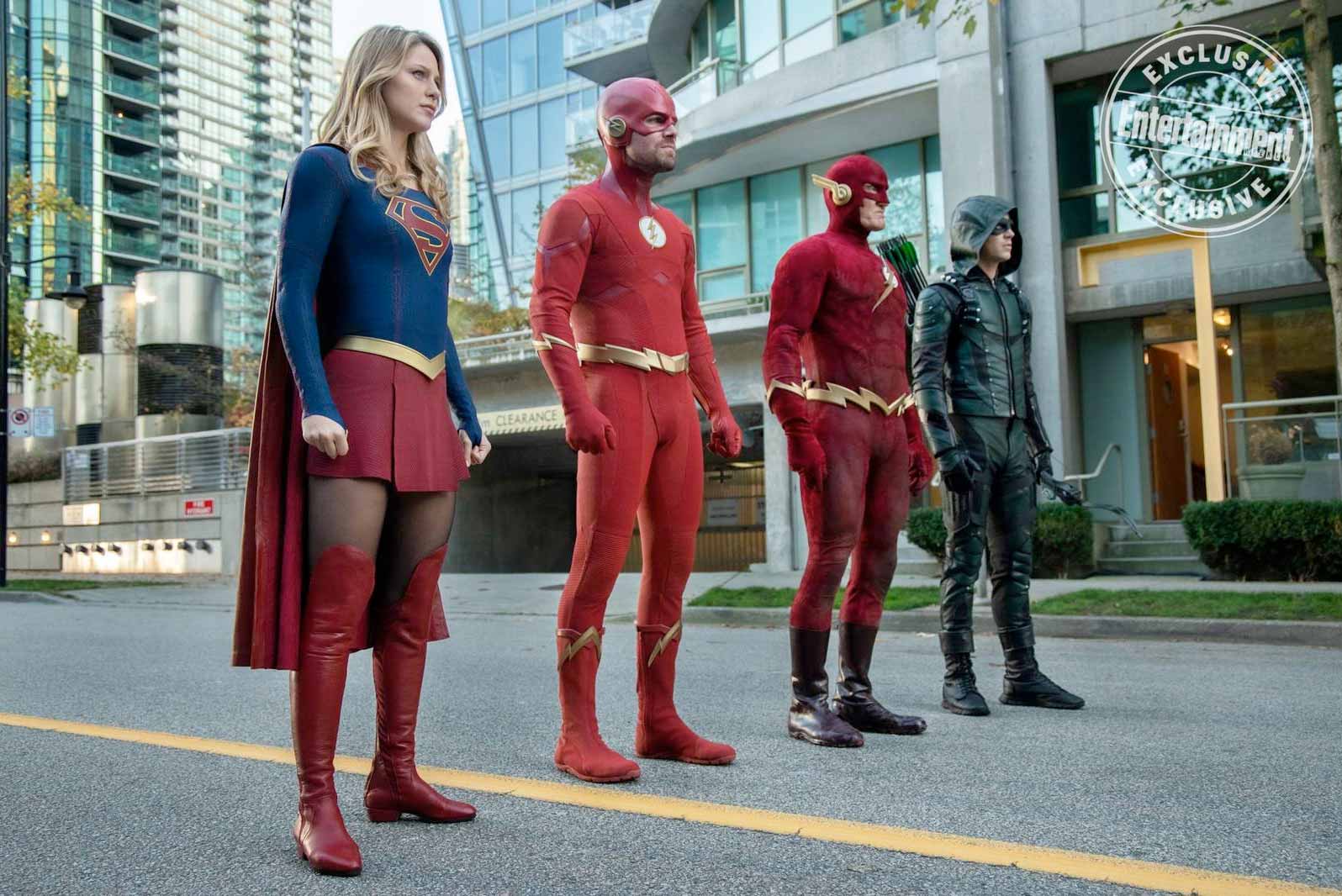 Let us know what you think of these new details in the comments below and in the forum!