7/19/2019 5:04 pm

Everyone knows that our leading lady, Ruby Rose is not shy about her tattoos. They have even incorporated them in the Kate Kane character. Today, even thought Ruby can't make it to SDCC (see our previous article) The CW released a new teaser that focused on the aspect of Batwoman and tattoos. Just about everyone in Gotham is making a stop at their local tattoo parlor and it would seem they all want the same thing! We can't blame them either! Check out this cute teaser below:
Let us know what you think in the comments below and in the forum!
7/18/2019 10:27 pm

In an emotional and purpose-felt post on her instagram, Ruby Rose gave fans notice that she would be unable to attend Comic Con this year due to production issues. The scenes she is working on for the episode require a lot more time and work than production thought and was simply unprepared for the depth required. In a video statement to her fans on Instagram, the Caped Crusader actor said [paraphrased] that she and the crew tried everything humanly possible to try and get her there. Ruby notes that she knows that there are banners, elevators, hotel key cards and batwoman signal lights across the city and she wanted to be there more than anything. Rose even notes that she couldn't have been more excited to be invited to SDCC as a guest because even before that she simply wanted to go as a fan.
In our opinion, this sucks. But we don't wish ill on Ruby at all and we hope that you will follow that thinking. Ruby is doing an incredible job as Batwoman (see our spoiler free review of the pilot). We'd much rather have a quality Batwoman show, than an in-person Batwoman appearance at Comic Con. Our best wishes go out to Ruby and the crew! Thank you for all the hard work you are doing! See you October 6th!
Let us know your thoughts in the comments below and in the forum!
7/18/2019 7:57 pm

Today we had a very unique opportunity! After an incredible panel featuring some of the top and hottest composers from the industry we were able to sit down with Blake Neely and Sherri Chung, the composers of Batwoman and the Arrowverse shows. We talked with them about what makes Batwoman unique in crafting her musical story as well as the very complicated task of bringing five different themes together for the upcoming Crisis on Infinite Earths crossover. Check out this incredible interview below:
Let us know what you think of the interview in the comments below and in the forum!
7/16/2019 3:25 pm

Tonight fans were treated to a debut performance of the Batwoman pilot at SDCC! The preview was among several others like Pennyworth and the Prodigal Son. Batwoman certainly felt like it was the most anticipated of the lot! Tons of cheers rung out when the Batwoman logo appeared on the screen! There were claps and cheers when it ended. Most of the ballroom walked out after the show certainly showing that Batwoman had the most draw for the crowd. Lucky for us, this wasn't our first viewing of the pilot (we got to see it a couple of months ago). Here's what stood out to us ... in a spoiler-free way. BE WARNED, while we will do all we can to not give away plot points, there are things here that can be considered spoilers if you want to know NOTHING about the show before watching it:
Pacing: The pilot takes place before the events in Elseworlds. It also is cut together with several flash backs. Some of which go very far back and others to only a few years ago. With the events being told in a well edited way, we are given a story that introduces characters, their history, and their current relationships through a large amount of time. This allows us to know the characters and their relationships through more time than just meeting them at the beginning.
One episode isn't enough: So what was rewarding to us, at least in our eyes, was that the pilot doesn't catch us up to current day. There is still a lot of story between the pilot and post-Elseworlds to be told. (Don't expect to see the Red Batwoman suit just yet).
The Fight Scenes are Brutal: There are some clear cut choices to film the fight scenes in a very brutal real way. For example, when Kate knocks someone out they don't just disappear, their body remains and you see it in the landscape of the continuing fight.
The Relationships are Complex: In a Batman-missing Gotham, the city feels empty with only a few socialites left to try and fix the city. Kate's relationships with everyone are very complex. It feels like every relationship has a surface level, a deep history, and a surprise element.
Some of the Burning Questions: There is a Batman/Bruce Wayne element. So far, there wasn't any mention of Kate's religion. Other Gotham villains were mentioned. Camrus Johnson is hilarious! Dougray Scott gives a lovable yet tortured soul performance. Nicole Kang's character is more than meets the eye. Meagan Tandy brought a quiet confidence to her performance, Rachel Skarsten is like The Joker but with motive to her chaos and finally Ruby Rose's Kate Kane was also a tortured soul but she's got a ton of fight in her and a new level of forgiveness ... for some!
Here are a few awesome things we were able to grab from preview night: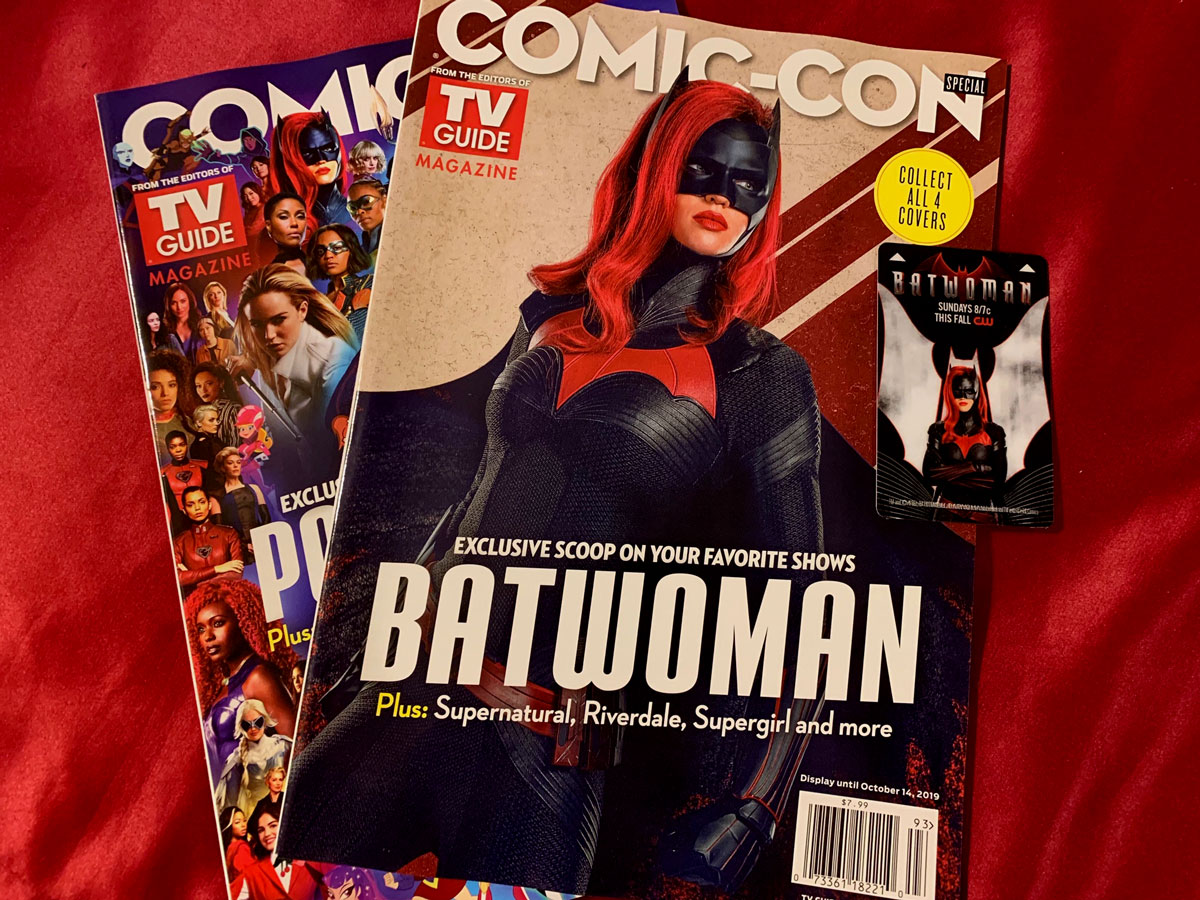 If you've been to SDCC and happened to see the pilot, shoot us a message and let us know what you thought. Share your thoughts on this spoiler-free review in the comments below and in our forum!
7/15/2019 11:02 am

Batwoman is going to take San Diego Comic Con by storm! There are two ways to see the pilot ahead of time, the streets are filled with Batwoman banners, Batwoman has the first big panel on Ballroom 20 on Saturday and now Batwoman is being featured on a swag bag for all attendees to get (if you are lucky and or you can trade for it). That's not all, the CW has released a new poster featuring Ruby Rose and the Bat Signal in a very minimalist and impactful way. The CW calls this "A Beacon of Change". Check out both the bag and the poster below: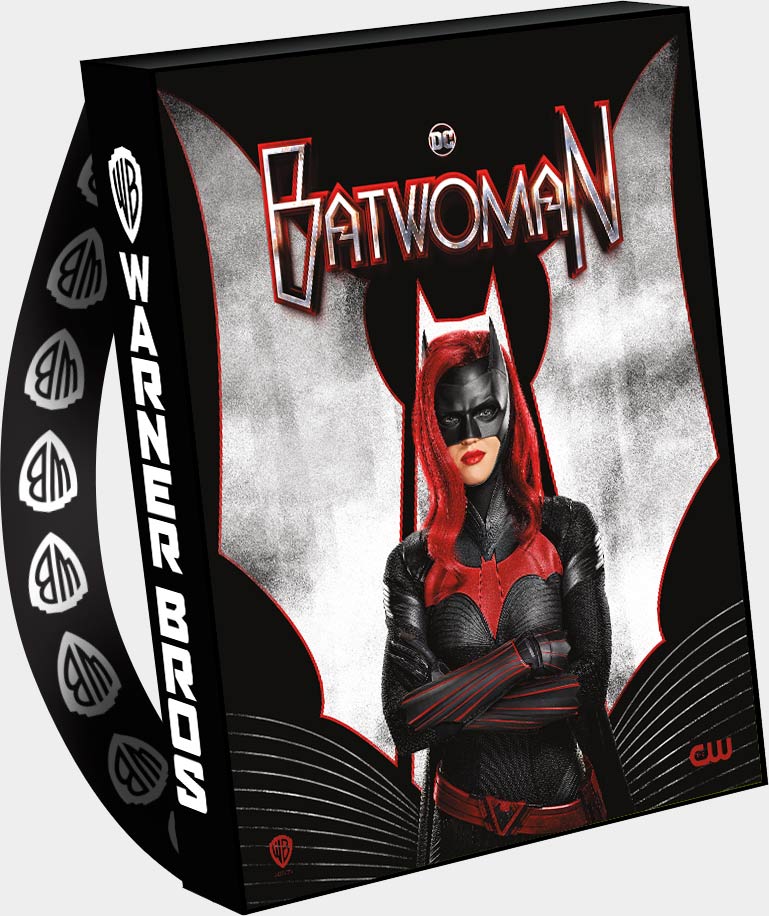 Share your thoughts with us in the comments below and in the forum!