12/4/2018 8:20 pm

You've seen her as Batwoman as she kicked butt all across Arkham Asylum in the trailers we've seen so far. Tonight, amid The Flash's 100th episode, The CW debuted the extended trailer for Elseworlds and we got our first look at the other Ruby Rose persona, Kate Kane. It is mere seconds long, but we can see how she looks and a bit about how she acts. As you may know, Caroline Dries, who is actually developing Batwoman as a show, wrote the story for the parts that Batwoman is in and we are going to get the best indication on what Batwoman the show, will be like from these story elements. Now that the news is reported, WE ARE SO EXCITED!!!! This is going to be amazing!
Let us know are you excited too? Comments are below and the forum is alive!
12/3/2018 3:21 pm

Batwoman is going to grace our screens in one week! We are so excited to see Ruby Rose as Batwoman. From many if the images and sneak peeks we've seen so far, her costume is amazing! To add yet another look at the famous female caped-crusader, The CW has released a new banner of the #Elseworlds crossover event. This features Batwoman, Supergirl and all the other heroes. It also introduces a robot man who we are unsure of and features the ominous black-clad Superman! Check it out below: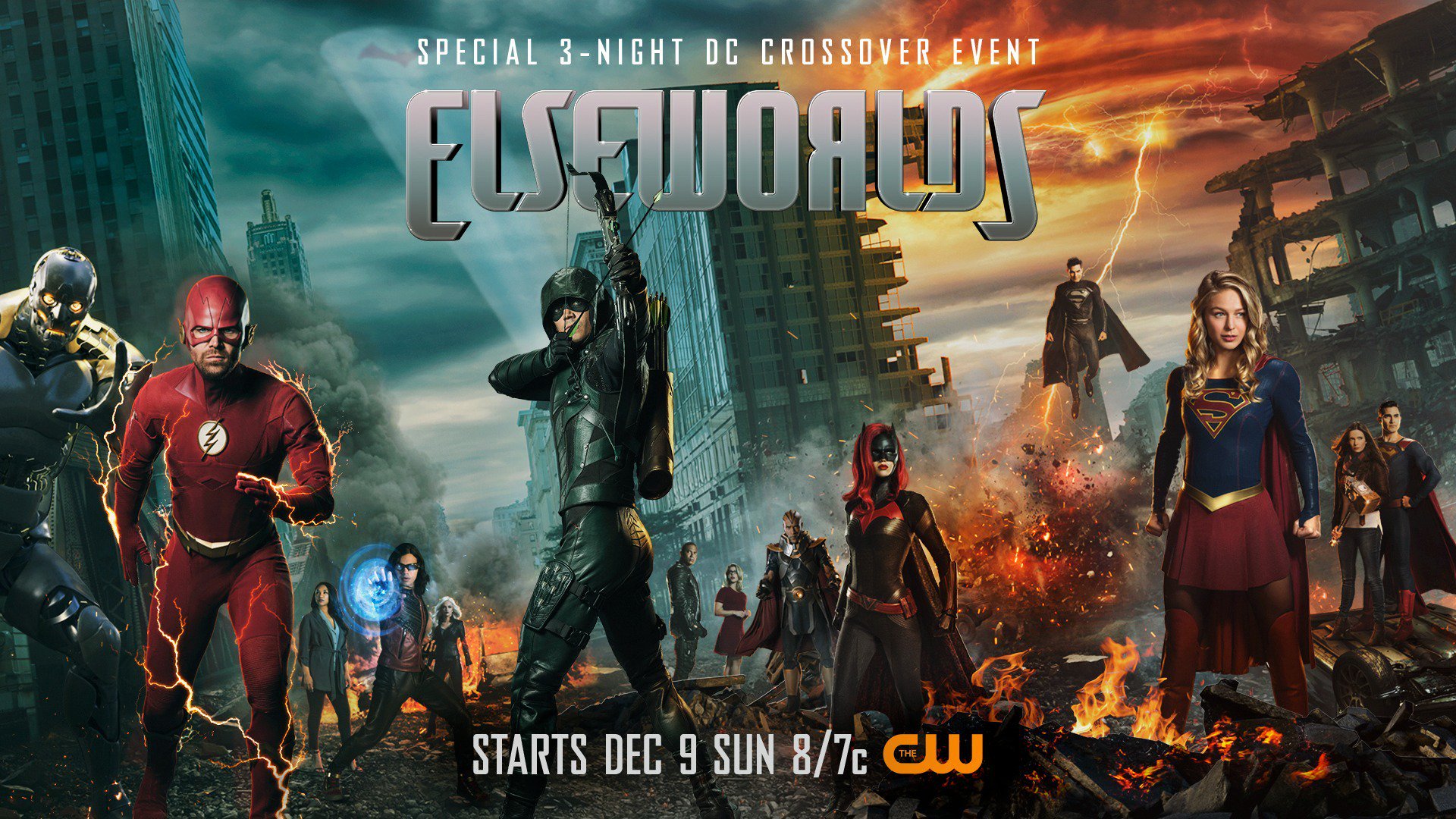 Let us know what you think in the comments below or in the forum!
11/28/2018 11:41 am

Today we have all three parts for the Elseworlds synopsis! As you would expect, each synopsis gets shorter and shorter as they progress to keep spoilers hidden! What we do know is that Barry and Oliver will be heading to Earth 38's Smallville, where they will meet Lois Lane and Kara's cousin, Superman! From there, it's off to Gotham where Batwoman will make her debut and help out the team with their quest to set reality right again. Which Earth's Gotham has still not been mentioned but we continue our hopes for Earth 38 to be the home for the female caped crusader! Read the full synopsis below:
EPIC ELSEWORLDS CROSSOVER KICKS OFF TONIGHT — When Barry Allen (Grant Gustin) and Oliver Queen (guest star Stephen Amell) wake up one morning and realize they have swapped bodies with each other, the two set off to find out what disturbed the timeline to cause such a shift. However, things quickly go from bad to worse when they present their case to Team Flash and the gang doesn't believe them. Barry and Oliver realize they need Supergirl's (guest star Melissa Benoist) help and travel to Smallville on Earth-38 where they end up meeting Kara's cousin, Clark Kent (guest star Tyler Hoechlin), and intrepid reporter, Lois Lane (guest star Elizabeth Tulloch). LaMonica Garrett guest stars as The Monitor.
THE ELSEWORLDS CROSSOVER CONTINUES IN GOTHAM CITY WITH BATWOMAN (RUBY ROSE) — With Oliver (Stephen Amell) and Barry (guest star Grant Gustin) still stuck in the other's bodies, the two get a lead on John Deegan (guest star Jeremy Davies) and head to Gotham City with Supergirl (guest star Melissa Benoist) to figure out why their reality has changed. While there, they meet the mysterious Kate Kane (guest star Ruby Rose) who provides them with information that leads the group to Arkham Asylum.
THE BATTLE CONCLUDES — Supergirl (Melissa Benoist), The Flash (guest star Grant Gustin), Green Arrow (guest star Stephen Amell) and Superman (guest star Tyler Hoechlin) engage in the battle of their lives.
Let us know what you think of these amazing stories in the comments below and in our forum!
11/25/2018 6:15 pm

Tonight on a new episode of Supergirl, the first 30-second trailer for Elseworlds debuted. It was short, but did show some very fascinating elements. It is the Monitor who offers Dr. John Deegan the ability to change reality and become a god. When two flashes (including John Wesley Shipp's 90's Flash), Barry's Green Arrow and Supergirl show up to put a stop to the reality changing, we hear the Monitor voice over "Show them what a real god can do" as a black clad Superman is summoned to face the quartet. Check out the trailer for yourself below:
Let us know what you think of the trailer in the comments below and in the forum!
11/21/2018 12:22 pm

Much of the crossover's story has been gathered by bits and pieces of news. Today, however, TV Insider has a chronological story telling of what we can expect. After reviewing the story, it became pretty clear that Batwoman's debut would happen in the second hour of the three night event. This means that fans will have to wait until Arrow's turn at bat on Monday December 10th at 8pm to see our caped crusader. Careful, possible spoilers ahead.
The crossover begins with the freaky-Friday-like event where Barry and Oliver switch places. After being unable to convince their teams that they have swapped, they head to Earth 38 where they hope that Kara will be able to see the two for who they really are. Kara is spending time with her family, Clark Kent and Lois Lane at the Kent farm when Barry and Oliver arrive. It appears that while not directly responsible, the Monitor is setting a series of events in motion that will even affect next year's crossover event! After some investigation, a clue sends the trio off to Gotham. Kate Kane herself, Ruby Rose, had this to say about her role in the crossover.
You don't get every bit of Kate and every bit of Batwoman. Obviously she's going to help them, but it's kind of an inconvenience.
Fans know that this event is meant to act as a soft launch for a potential Batwoman TV show which has already received a pilot order. Fans can keep there fingers crossed that a series order isn't far off after the crossover. For more details on part two of the crossover event, head to TV Insider's article here.
Let us know what you think of these amazing events in the comments below and in our forum!