9/15/2021 10:56 am

Welcome back Batwoman fans! Today, we have the first little sneak peek at the season 3 of Batwoman premiere! It's only fifteen seconds, but that's fifteen seconds we didn't have before and more importantly, this answers a big question we've had since the season two finale. How will Alice still be on the show if she is in jail all the time? That is distinctly answered in the teaser for season 3! Batwoman looks to have gained the mayor's approval to use Alice as a consult to help find the missing trophies of Gotham's worst criminals! With Alice having ties to the criminal world, she could be a great ally, or manipulate the situation for her freedom! Check it out below!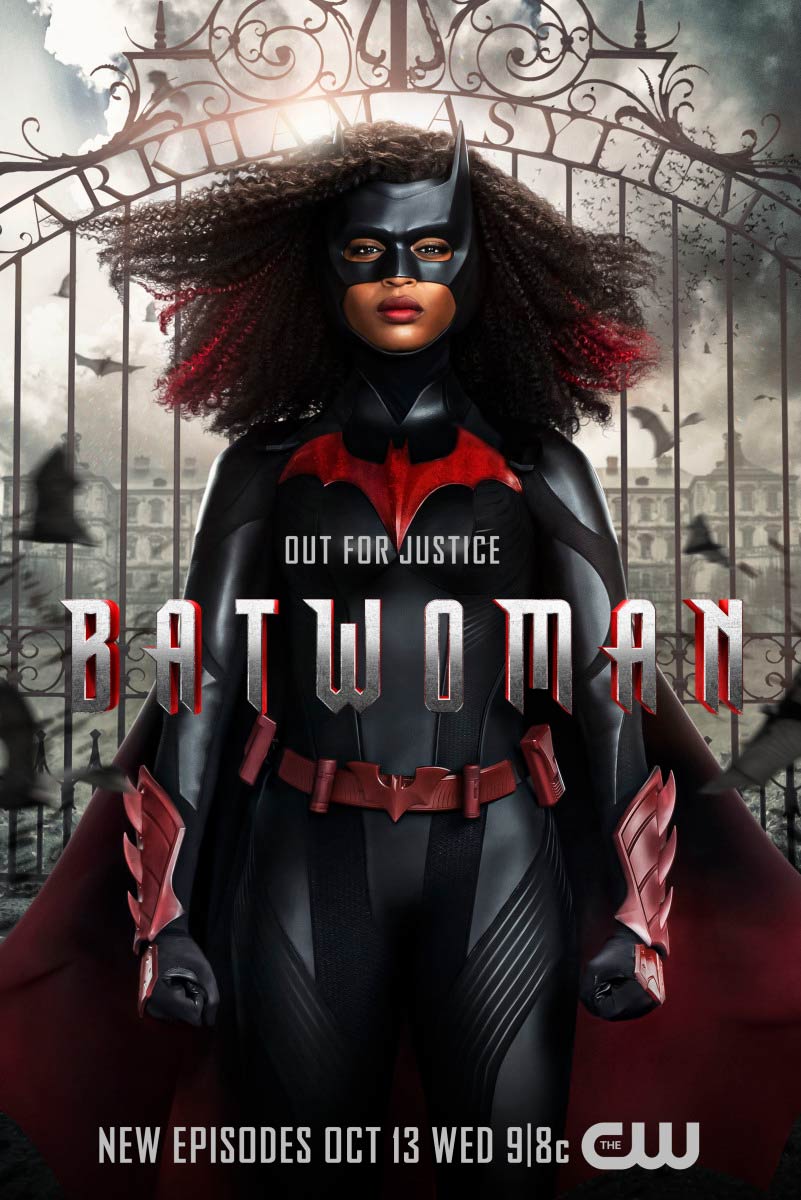 Let us know what you think in the comments below and in the forum! Don't forget to follow us on Twitter.
8/30/2021 3:39 pm

Gotham has always had an allure when it comes to it's villains and one certainly stands out when it comes to the seductive. The once played by Uma Thurman villain, Poison Ivy is coming to Gotham next season on Batwoman and she'll be played by Bridget Regan! At the end of Batwoman season 2, Kate Kane departed Gotham to seek out her cousin Bruce leaving Ryan as the sole Batwoman in Gotham. While she is now joined by Batwing, the costumed hero Luke Fox now adorns, the villain population seems to be growing now that most of Batman's trophies have been released to the wild! Entertainment Weekly first broke the news and has this description about Poison Ivy:
A former botany student at Gotham University, Pamela "was a passionate, brilliant scientist with a mind for changing the world for the better. But her plans shifted when she was experimented on by a colleague, injected with various plant toxins which turned her into the infamous Batman villain Poison Ivy. With a formidable power coursing through her veins, Pamela used her powers to do what she thought was right… even if Batman and those closest to her disagreed with her dangerous methods. Now effectively wiped off the board for years, Batwoman and the Bat Team must prepare themselves for Poison Ivy to return with a vengeance.
Are you excited for the event? Let us know what you think in the comments below and in the forum! Don't forget to follow us on Twitter.
8/25/2021 11:30 am

This is exciting news for Batwoman fans. The Flash had previously hinted that Season 8 will be starting the season with a 5-part event aimed at bringing heroes in from other shows, and today we have new information to share with everyone! Javicia Leslie will be joining the event as Batwoman, alongside other heroes such as The Atom, Black Lightning, Sentinel, Mia Queen, and Ryan Choi. All these heroes will be headed to Central City to stop Armageddon, an alien threat that puts the world in danger. Check out the official log-line for the event:
A powerful alien threat arrives on Earth under mysterious circumstances and Barry (Grant Gustin), Iris (Candice Patton) and the rest of Team Flash are pushed to their limits in a desperate battle to save the world. But with time running out, and the fate of humanity at stake, Flash and his companions will also need to enlist the help of some old friends if the forces of good are to prevail.
This certainly seems like a very cool event that will bring about heroes old and new together in a new type of crossover event.
Eric Wallace, the Executive Producer of The Flash, commented:
Simply put, these are going to be some of the most emotional FLASH episodes ever. Plus, there are some truly epic moments and huge surprises that await our fans. And we're doing them on a scale that's bigger and bolder than our traditional FLASH episodes. So yes, ARMAGEDDON is a lot more than just another graphic novel storyline. It's going to be a true event for FLASH and ARROWVERSE fans, old and new. Honestly, I can't wait for audiences to see what we've got planned.
Are you excited for the event? Let us know what you think in the comments below and in the forum! Don't forget to follow us on Twitter.
7/26/2021 7:19 pm

As Season 3's filming is underway, we are getting more and more news of who will be coming in to the show. This time around it'll be Nick Creegan, who folks might know him from Law & Order: Organized Crime, and David Makes Man. Here, he will be playing Marquis Jet, son of Jada Jet, who will be played by Robin Givens as we announced earlier this month. Marquis Jet is described as:
A sexy playboy who grew up in a lavish lifestyle, Marquis is too charming for his own good and wields his power with a ne'er do well attitude. He views life as one big joke and that sense of recklessness has a tendency to clash horribly with his no-nonsense mother Jada Jet. When he meets Ryan, he sees in her a like-minded young go-getter who like him is just waiting for the right opportunity to make his mark on Gotham.
Now, if continue working off the theory that Jada is Ryan's birth mother who is still alive, Marquis may very well be Ryan's brother. We can't wait to see what Creegan brings to Batwoman with his carefree attitude. Let us know what you think in the comments below and in the forum! Don't forget to follow us on Twitter.
7/20/2021 12:08 pm
Things are popping for season three Batwoman with another new character added! In an exclusive from Deadline, Victoria Cartagena has been announced as a new series regular playing Renee Montoya. Some of you may remember her playing this same character on FOX's Gotham series, however the universes are not connected. Her character is described as:
Cartagena's Montoya is a former GCPD officer who left the force when she could no longer stomach the corruption inside the department. She now runs the "freaks division," which hasn't seen a lot of action… until now. Righteous and pragmatic, and LGBTQ+, she's a woman with a very personal (and mysterious) mission to help clean the streets of Gotham in the right way, by whatever means necessary.
This will be an interesting addition as her background sounds somewhat similar to Sophie's. Will there be a connection?
Let us know what you think in the comments below and in the forum! Don't forget to follow us on Twitter.